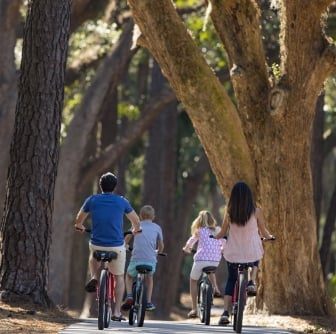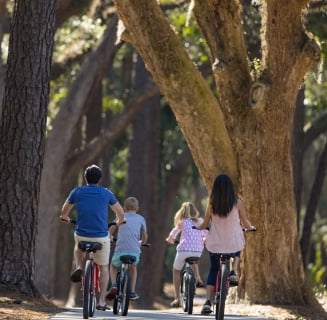 Best Bike Trails on Hilton Head Island
By Hilton Head Insider
With over 60 miles of leisure pathways winding through lush forests, serene beaches, and historic sites, there is plenty to see and do on America's Favorite Island®. It's no secret that biking is one of the favorite pastimes of visitors and locals alike. After all, there's a reason the American League of Bicyclists gave Hilton Head Island a Gold Level Bicycle Friendly Community rating. This Hilton Head Island bike trail map will give you an idea of what we're talking about. If you're looking for a quiet, solo adventure, a romantic ride for two, or a family outing with the kids, we can assure you that our bike pathways have everything you need and more.
With so many scenic bike pathways through Hilton Head Island for you to choose from, we'd like to highlight five of our favorites to help make your trip truly unforgettable. Whether you're planning your summer getaway or you're already in the Lowcountry and wondering, "Where are the best bike pathways near me?" these options will help you make the most of your time on Hilton Head Island.
#1: SHELTER COVE COMMUNITY PARK 
Shelter Cove Community Park is a hub of the community, where people come together to enjoy festivals and live music. Take a ride through the pathways along Broad Creek, stop at the observation deck to take in panoramic views of the salt marsh, and finish up with lunch at one of the many delicious restaurants near the Shelter Cove Towne Centre. You may also want to stop along the way at the Veterans Memorial, a touching tribute to all the veterans of American military service.

The Shelter Cove Sculpture Trail is the most recent addition to Shelter Cove Community Park. This addition was a two-year project set forth by the Town of Hilton Head Island to enrich the community while showcasing and celebrating local arts and culture. This trail highlights some of the many pieces of the Hilton Head Island public art collection.
#2: GREENS SHELL COMMUNITY PARK
There's history everywhere you look — and pedal — across Hilton Head Island. One of our most popular cycling destinations for history buffs is Greens Shell Community Park.  The trails here offer an opportunity for a unique look back in time, as it's home to one of the only remaining shell structures in coastal South Carolina. A four-foot-tall semicircular ridge, constructed of oyster shells that spans 30 feet at its base, marks the edge of what used to be a Native American farming village. This archeological gem dates back to the Mississippian period — approximately 1335 AD — and is now listed on the National Register of Historic Places. 
Green Shell provides magnificent views of Skull Creek, the Intracoastal Waterway, and a ride through a lush wooded oasis. While there, you can bike just a few minutes up Squire Pope Road and enjoy a delicious après-bike meal with jaw-dropping waterfront views at Skull Creek Dockside.
#3: BARKER FIELD OBSERVATION DECK 
If you're looking for one of the most spectacular sunrises on Hilton Head Island, look no further than the Barker Field Observation Deck. Although, with sweeping views across Port Royal Sound, and the Atlantic Ocean to the East, this observation deck offers a breathtaking view any time of day. The boardwalk trail leading to the observation deck will have you biking behind the soccer fields and baseball diamonds of Barker Field, where you might spot some local athletes out practicing their kicks, swings, and pitches.
#4: HISTORIC MITCHELVILLE FREEDOM PARK 
Biking through the grounds of Mitchelville will take you on a ride through history. Its roots date back 3000 years to when Native Americans called it home. Mitchelville was later founded and built in 1862 by formerly enslaved people — this self-governed community was the first of its kind in America. Now home to 16 acres of some of Hilton Head Island's most diverse ecological spaces, with wetlands, forest, a salt marsh, and a beach, this trail offers cyclists a little bit of everything.
#5: OLD HOUSE CREEK PIER 
This slow-moving creek is the perfect place for animal lovers. The end of the pier hosts a space for wildlife viewing, allowing visitors to see shrimp and fiddler crabs. You're also likely to see locals biking out to enjoy some fishing and crabbing right from the creek.
While you're on this side of Hilton Head Island, make your way to Tiki Hut, an iconic beach bar. You'll be in for an unforgettable evening of live music, beachside bites, and hand-crafted cocktails.
YOUR BIKING QUESTIONS, ANSWERED
If you have any questions about biking on Hilton Head Island, our FAQ page is a great place to start. You can also find detailed maps, safety guidelines and other information at kiosks along the island's trails and pathways.
BIKE RENTALS AND REPAIRS ON HILTON HEAD ISLAND
With nearly 30 bike rental shops on Hilton Head Island, there are plenty of wheels to go around. Depending on your needs, we recommend visiting Hilton Head Bicycle Company, Hilton Head Outfitters Bikes & Boat Rentals or Lowsea Bike, Beach and Baby Rental. These local shops provide quality equipment rentals, with top-tier customer service and they would also be happy to answer any of your questions about biking the Lowcountry.
If your ride needs a tune-up, bike repair stations can be found at Chaplin Community Park, Coligny Beach Park, and Folly Field Beach Park.
TIPS FOR A SAFE RIDE!
• Safety first, pictures later.
• Obey all traffic signals and pathway markings, including stop signs. 
• Yield to pedestrians on pathways. 
• When biking at night, wear light-colored clothing or carry a flashlight. Bicycles must have a red rear reflector and a headlight.
• Ride single file and keep a safe distance from other bicyclists. 
• When biking on the beach, check the tides and be sure to bike during low tide.
• Avoid a "folly" — a point on the beach that may not be passable at high tide on foot or by bike.
 
When you're done with your ride, take a look at our recent blog to get an idea of some other fun, family-friendly activities so you don't miss a thing on America's Favorite Island®. 

Ready to hit the trails on Hilton Head Island? Get your vacation guide today and start planning your getaway!
More Trending Stories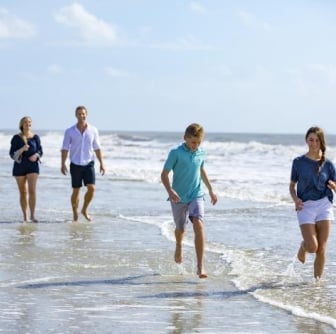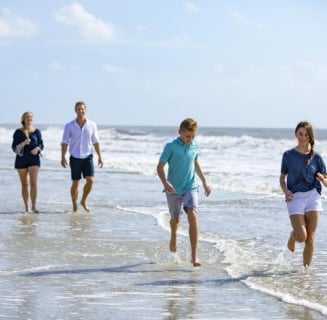 Jogging on the Beach
One of the joys of living near, or visiting, the ocean is being able to easily, and daily, enjoy its assets…the beach, the water, the seafood, and the...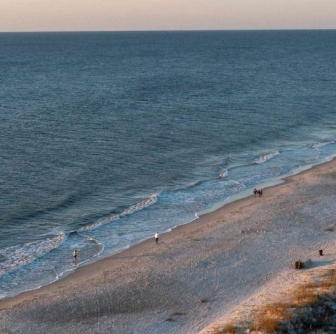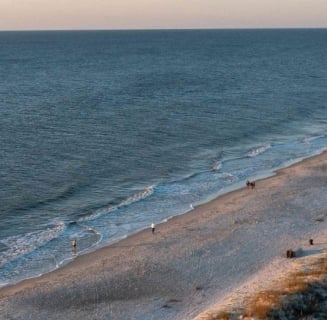 Five Ways to Unplug on Hilton Head Island
Avoid the unplugging anxiety on Hilton Head Island by filling your day with the beautiful scenery characteristic of America's Favorite Island®...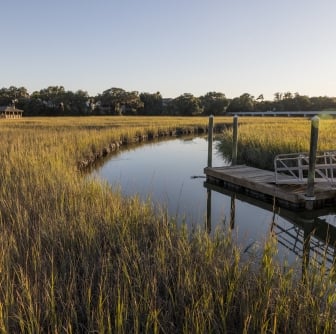 Staying Mindful of our Impact: Sustainable Practices on Hilton Head Island
Did you know Hilton Head Island was America's first eco-planned community? That our commitment to developing tree cover has been continuously...