Outdoors & Recreation
Get Outside
Take in the natural splendor of Sea Pines Forest Preserve, hop aboard a dolphin-watching cruise, or get blissfully lost on our island's 60 miles of leisure pathways. The great outdoors is calling…
Featured Outdoor & Recreation Partners
Vagabond Cruise
Vagabond Cruise is Hilton Head Island's original sightseeing and excursions cruise operator located under the lighthouse in Harbour Town since 1968. The Vagabond Cruise fleet offers a wide range or water-bound tours and excursions including dolphin cruises, dinner cruises, ferry service to both Savnanah, GA and Daufuskie Island, sailing aboard the America's Cup stars and stripes, shrimp trawling and crabbing aboard the Tammy Jane, and so much more! Come join the crew at Vagabond for a lifelong Hilton Head memory!
60 Miles to Explore
Biking on Hilton Head Island
One of the most popular activities on Hilton Head Island is biking. With over 60 miles of paved leisure pathways running the length of the island, including 12 miles of hard-packed sand beaches at low tide, Hilton Head Island is also among three League of American Bicyclists' Gold Level bike-friendly communities on the Atlantic coast. Click here for a map of Hilton Head Island's Bike Pathways and for listings of Bicycle Sales & Rentals and Bike Tours.
Hilton Head Island Bird Watching
With our protected wetland and variety of birds like egrets, sandpipers, wood storks, seagulls, pelicans, and osprey eagles, Hilton Head Island is a bird watcher's haven. According to the Audubon Society, nearly 200 species of birds flock to the lakes, marshes, and shoreline of Hilton Head Island, while more than 350 species of native birds have been sighted on the Island over the past 10 years. Among the most notable species are the snowy egret, large blue heron, osprey, and white ibis, as well as cattle egrets that first arrived here in 1954—quite a change from their traditional South American habitat!
To learn more about the birds of Hilton Head Island, visitors are encouraged to take a bird-watching tour at the Audubon-Newhall Preserve. In addition, many of our Boat Tour companies offer bird and wildlife viewing tours. Click here for a full list.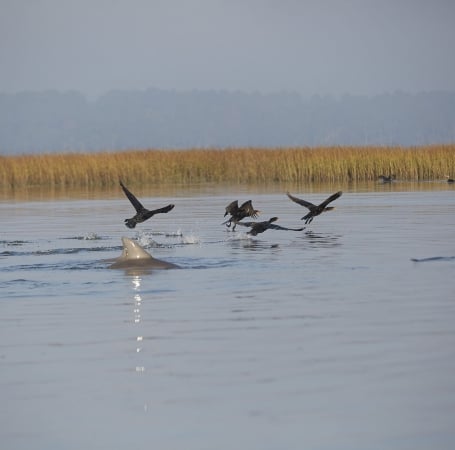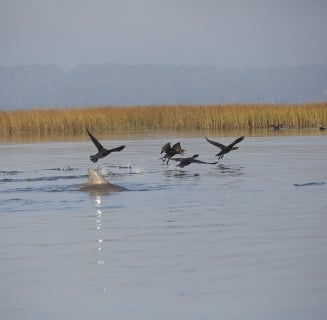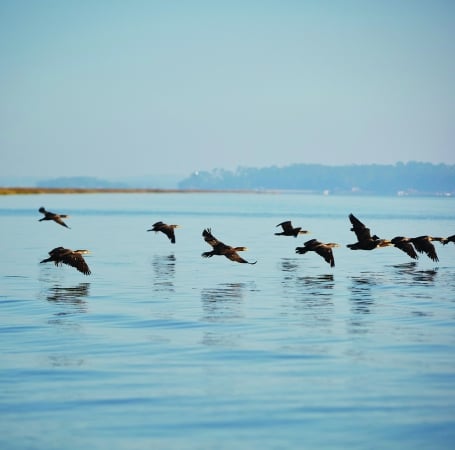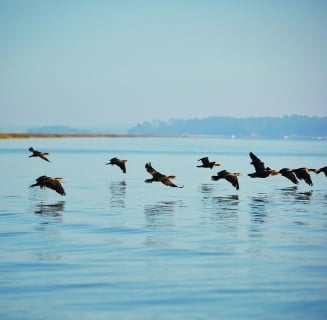 Footgolf on Hilton Head Island
Heritage Golf Group brings FootGolf To Hilton Head! Experience Hilton Head Island's first FootGolf Course at Port Royal Golf & Racquet Club. The goal of FootGolf is to kick a soccer ball into a 21" inch diameter cup in as few kicks as possible. It mirrors golf's basic model. Players of all ages will enjoy the 9-hole, FootGolf course on Planter's Row. It takes less than an hour to play 9-holes of FootGolf. It is open in the afternoons from Thursday to Saturday at the Port Royal Golf Club. Learn more.
Leisure Pathways and Walking Trails on Hilton Head Island
You'll find some of the most scenic trails in South Carolina on Hilton Head Island, with designated paths beautifully bordered by plants, wild animals, and marshlands. Each trail leads to a point of interest on the Island and can be explored from sunrise to sunset. Another option is to cross the bridge to the Main Trail on Pinckney Island: this 3.5-mile trail is completely bordered by water and watched over by dolphins and alligators. Birds and foliage spill onto the trail in some places making the experience even more spectacular. All trails are suitable for walking or careful biking.
Kayaking on Hilton Head Island
Meander the pristine waterways and inlets off Hilton Head Island and the rivers surrounding Bluffton in your personal kayak. Canoe and kayak rentals and instruction are available for those who want to explore the Island's creeks, marshes and inlets along Calibogue Sound. Outside Hilton Head offers a year-round kayaking school led by an expert staff of ACA Certified instructors, as well as guided tours. Lucky Hilton Head Island kayaking enthusiasts might even catch a glimpse of a bottle nose dolphin during their ocean outing.
Horseback Riding on Hilton Head Island
At Lawton Stables, riders of all abilities enjoy one hour Western style trail rides meandering through the Sea Pines Forest Preserve where the Lowcountry's natural wildlife abounds. From the majestic Snowy Egret to the famous Yellow Bellied Slider usually seen sunning themselves on the banks of the lagoons, a wide variety of birds and four legged animals can be spotted in their natural habitat. The horses are gentle and the guides are friendly and knowledgeable. Truly a happy place for the entire family. Book online at here for this unique nature based tour.
Nature Preserves on Hilton Head Island
Get in touch with your wildlife-loving side at a Hilton Head Island nature preserve. Visit the Audubon Newhall Preserve and view the natural flora and fauna of the Island, or discover wildlife at Pinckney Island Nature Preserve, a former lookout used by early settlers. Walk the last remaining tract of undisturbed land on Hilton Head Island at Sea Pines Forest Preserve, explore a 4,000-year-old Indian Shell Ring, or visit one of many registered South Carolina historic sites designated by the National Register of Historic Places. For more information, check out our listing of Hilton Head Nature Tours.
Zipline and GoKarts
Adventure Hilton Head delivers big outdoor family-friendly fun. Get thrills with amazing views of the island on the zipline canopy tour, tackle the ropes course and twist and turn like a pro on the electric GoKart track. 
Helicopter Tours
See Hilton Head Island like you've never seen it before with Hilton Head Helicopter Tours! Book a customized helicopter tour for passengers of all ages. Enjoy breathtaking views of the island and the surrounding Lowcountry through several tour packages available, which provide a good chance of seeing Atlantic Bottlenose Dolphin, manta rays, sharks, and shipwrecks. Bring your camera and get ready to take some amazing photos!