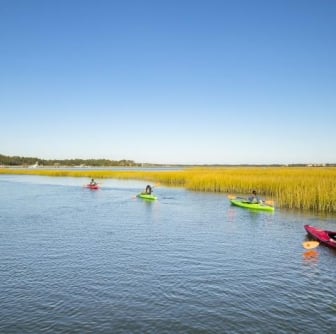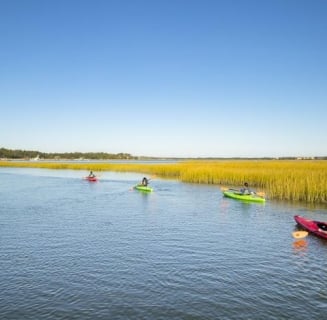 The Kayaker's Guide to Hilton Head Island
By Hilton Head Insider
Welcome to America's Favorite Island—best explored by sea. Grab your life vest—and your sense of adventure—and take in the natural beauty of Hilton Head by kayak. Navigate creeks, lagoons, and rivers as you glimpse the Lowcountry's unforgettable scenery and native wildlife.
For accommodations that are close to the action,  discover an oceanfront oasis at the Hilton Head Marriott Resort & Spa. Settle in to spacious accommodations, indulge in luxury amenities, and savor fine dining with delicious indoor or al fresco options. Best of all, with direct access to the beach you're just a hop, skip, and a paddle away from a day spent on the water.
WHERE TO GO: HILTON HEAD ISLAND'S TOP KAYAKING SPOTS
Location, location, location. Hilton Head Island is surrounded by water so naturally, there's plenty of fun to be had on—or in—the waves. When it comes to the top spot, you're truly spoiled for choice. Famous lighthouses, remote beaches, playful dolphins—Hilton Head has a kayaking experience for everyone. Staying at the Marriott? Each one of these paddling paradises are within a 30-minute drive!
Harbour Town: Take a private paddle through Hilton Head and find yourself up close and personal with Island fauna. As you make your way through the salt marsh, be on the lookout for bottlenose dolphins, loggerhead sea turtles, manatees, and the famous Harbour Town Lighthouse.

Daufuskie Island: Spend the day exploring Daufuskie Island from a unique perspective. Whether you prefer to enjoy the scenery or are in the mood to push yourself, Daufuskie offers two unique kayak outings—a more challenging ocean journey, or a lazy creek float—for a truly memorable ride.

Jarvis Creek: Beginners and families—this one's for you. Join a certified naturalist guide on a kayak exploration of Jarvis Creek. The absence of recreational boats means the waters are calm, and the many inlets and creeks make it an ideal location for spotting wildlife. 

May River: Wind your way through Bluffton's Old Town on the May River—home to Lowcountry marshes, dolphins, and sea birds. Plus, twice a day the tide recedes and reveals the famous Sand Bar. If the tide is right, stay for the sunset—it's quite possibly the prettiest in the area.

Palmetto Dunes Lagoon: Boasting a vast array of wildlife and calm, uncongested waters, the lagoon is a kayaker's dream. Keep your eyes peeled for otters, egrets, and cranes as you pass idyllic residential areas and three sprawling golf greens.

Shelter Cove: Shelter Cove Harbour & Marina is the largest deep-water marina on Hilton Head Island. Visit for a trip down Broad Creek—a breathtaking waterway that winds through the Island. As you navigate, you're likely to see eagles, herons, and maybe even minks.
WHERE TO RENT: HILTON HEAD ISLAND'S KAYAKING OUTFITTERS
Don't worry about packing your kayak—we've got you covered. There are several locations around Hilton Head Island where you can rent kayaking equipment for your paddling vacation.
Now that you've got the inside scoop on kayaking on Hilton Head Island, it's time to book your trip. Browse travel offers available at the Hilton Head Marriott Resort & Spa—you'll want to stay somewhere that grants you access to pristine shorelines and kayak outfitters. Make sure you share your adventures with us using #LowcountryLife on Instagram. 
More Trending Stories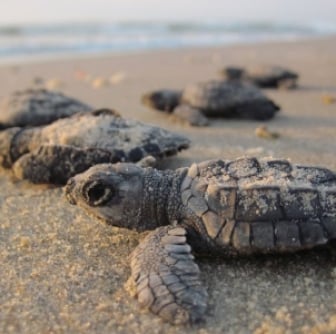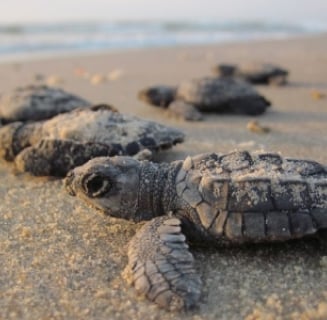 5 Fascinating Facts About Sea Turtles on Hilton Head Island
With its sun-kissed beaches, vibrant coastal landscapes, and a commitment to conservation, Hilton Head Island is a paradise teeming with extraordinary...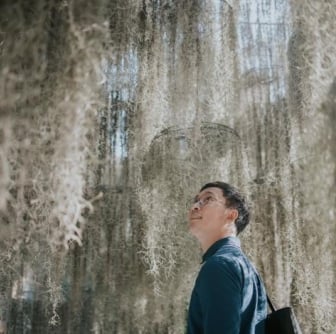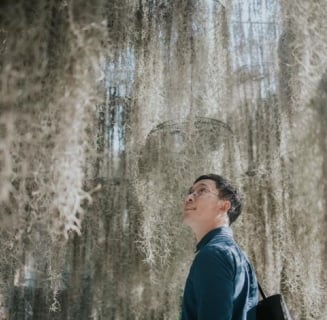 Staying Mindful of Our Impact: Sustainable Practices on Hilton Head Island
Did you know Hilton Head Island was America's first eco-planned community? That our commitment to developing tree cover has been continuously...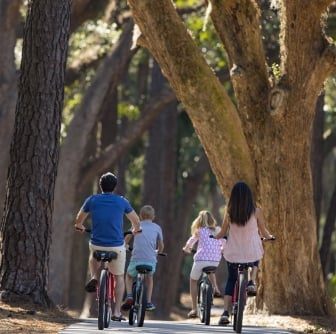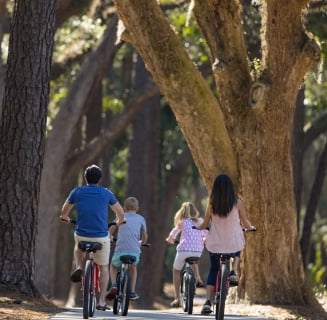 Hilton Head Island Recognized as One of the 'Best Bicycling Communities' in the United States!
Hilton Head Island has been recognized as one of the top 25 bicycle-friendly communities in the United States and one of 39 to achieve "Gold-Level"...