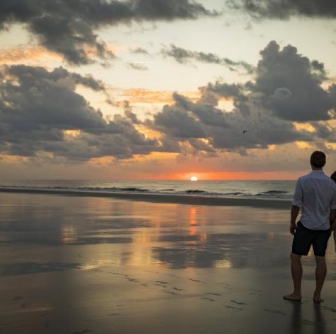 The first-timer's guide to hilton head island
By Hilton Head Insider
Curious about Lowcountry life? You've come to the right place. Beautiful Hilton Head Island is the kind of place that leaves a mark on your heart — with its relaxed lifestyle, amazing ocean views, and colorful beach sunrises of pinks and blues. Whether you're teeing off on championship golf courses or strolling the 12 miles of sandy beaches, there's something here to inspire everybody who dreams of an unforgettable escape. If you've been here before, then you know what we're talking about, but if you're a new visitor, you may be wondering what to see and do on America's Favorite Island®. Luckily, we're here to help! With this handy first-timers' guide to Hilton Head Island, you'll be living Lowcountry life like a local in no time.
LIFE'S BETTER AT THE BEACH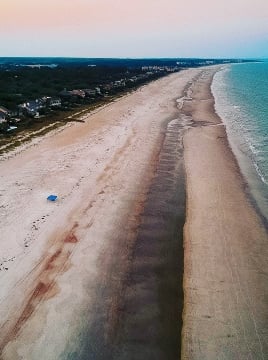 Here on Hilton Head Island, we know a thing or two about the beach. After all, the Lowcountry is home to some of the top family-friendly beaches in America. Relaxing on the beach with your toes in the sand is the perfect way to spend a day here. When you're done working on your tan, go for a dip in the ocean. Or, stay afloat on a paddleboard. If you want to have a fun coastal experience along the sunny shores, book an unforgettable outdoor adventure with Outside Hilton Outfitters. Whether you're after adventure or ambiance, there are many ways to explore.
BIKE OR STEED? WHICHEVER YOU PLEASE!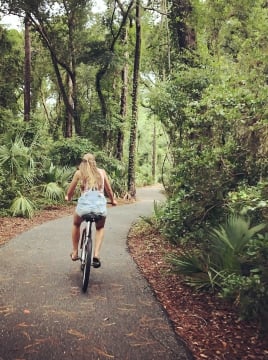 You can trade your paddleboard rentals for bikes and see the island from over 60 miles of leisure pathways. Or, enjoy a coastal ride along the beach and take in some jaw-dropping ocean and sunriseviews. The Bicycling on Hilton Head Island brochure details trails in the area, and their difficulty, making routes easier to plan for cyclists of all skill levels. Feel the breeze in your hair while pedaling across sunny Palmetto Dunes Oceanfront Resort. Leisurely ride along the marina while spotting sea life in the waters by The Sea Pines Resort, or meet up with familiar faces at Shelter Cove and the nearby picnic-perfect park. While seeing the island on two wheels can be an enchanting experience, you can add even more magic to your ride by saddling up and exploring with a trusty steed. You can book a horseback adventure on Daufuskie Island— just one serene ferry crossing away from Hilton Head Island. The beautiful mares are bred to lead the rider through scenic paths along the beach or wooded trails. You can also take a trip through history and travel across time on Daufuskie Island to the historic schoolhouse of Pat Conroy, amongst many other classical sites.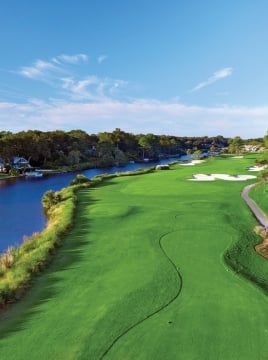 It would be a bogey on our part to not mention that many first-time visitors to Hilton Head Island come for the world-class golf courses. Bring out your competitive spirit — or play for fun — over a round of golf on the 24 courses waiting for you here. Not sure about golf? We have more than "fore" reasons why you should try it. The courses here have been designed by some of the most notable architects of the sport. Ever wanted to play like the pros? You can test out your skills on a PGA TOUR course at Harbour Town Golf Links. Suppose you're hoping to relax with the warmth of the sun on your face and a driver in hand. In that case, the picturesque Palmetto Dunes courses — designed by Robert Trent Jones, George Fazio, and Arthur Hills — are the perfect places to tee off. Whether you're a seasoned professional or just getting started, you will find plenty of fun and challenges on these courses.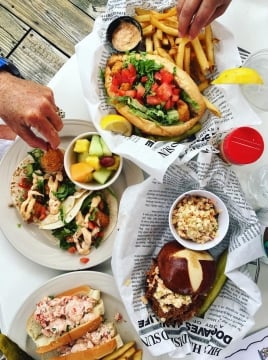 Spend your days in pure bliss and tranquility at a premier spa, or stroll through Shelter Cove shopping plaza for some retail therapy. There are plenty of options to pamper yourself with luxury here on Hilton Head Island. You can wine and dine at impressive restaurants and shop to your heart's content along the open-air plazas.
You can't make your way to Hilton Head Island without indulging your tastebuds by dining on fresh seafood at one of the many waterfront restaurants. There is no shortage of places to enjoy sustainable local fare in inviting outdoor settings - usually with a spectacular sunset served gratis. Be sure to indulge in the island spirit at local breweries and wineries crafting robust reds and crisp whites perfect for savoring dockside From elegant culinary events with top chefs to lowkey shareable buckets of crab legs, there is a mouth-watering local dish for every taste.
The Lowcountry lifestyle is unique. Here, Islanders share smiles with passing strangers and friends alike. We enjoy walking along the shoreline at sunrise as much as you, and we're happy to share what makes this place special with you. If it's your first-time on Hilton Head Island — don't be shy! Make way for the fairways, enjoy dinner on the plaza, and embrace Lowcountry life. We can't wait to share everything that makes Hilton Head Island so special with you. Start planning your getaway to America's Favorite Island® today. 
More Trending Stories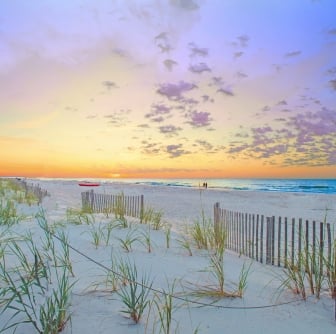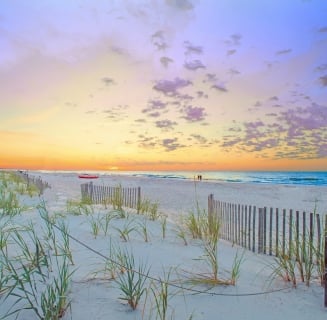 7 Reasons Why Hilton Head Island Should Be on Your Bucket List
From our stunning natural beauty, green culture, and wildlife protection initiatives to our Lowcountry lifestyle and warm Southern hospitality: There...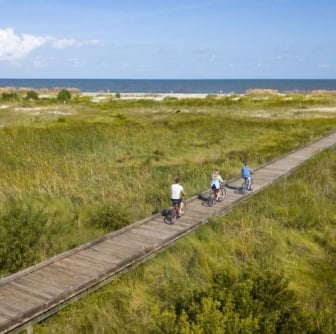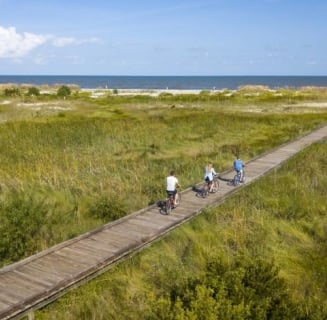 How to Spend 48 Hours on Hilton Head Island
Hilton Head Island offers a unique and relaxing vacation experience unlike anywhere else—and everyone, at some point, should make their way to America...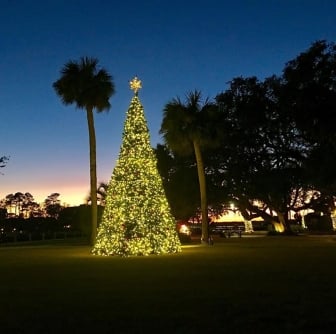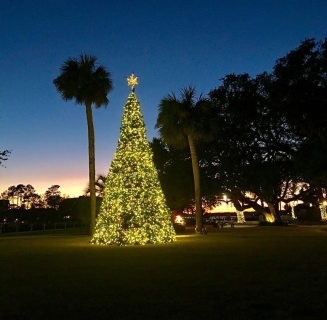 Walking in a Lowcountry Wonderland: Celebrate the Holidays on Hilton Head Island
What if you could leave all the planning behind this holiday season? Say goodbye to checklists, preparations, and online shopping, and instead, gather...