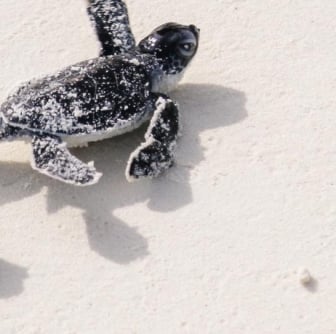 Sea Turtle Season is Here!
By Hilton Head Insider
Beginning in early May and ending in October, Hilton Head Island is a refuge for sea turtles as they prepare to nest and lay their eggs for the season. The most common kind of sea turtle to make the shores of Hilton Head Island their nesting ground is the Loggerhead Sea Turtle, and while it can be an exciting prospect to see this spectacle of nature in the wild, it's important to give these wonderful creatures their space so they can continue to prosper as species around the shores of America's Favorite Island® and in our oceans.
If you happen to be visiting the Lowcountry during this magical time of the year, and you'd like to witness the beauty of mother nature, there are several things to keep in mind to be able to participate safely and respectfully — let us tell you how! 
MEET THE TURTLES 
Seven different species of sea turtles inhabit our vast oceans. Of those seven, four frequent Hilton Head Island during their nesting and laying season. As we already mentioned, the most common sea turtle to nest in the Lowcountry is the Loggerhead Sea Turtle. In fact, these beautiful creatures are so common on Hilton Head Island that they were named the official reptile of South Carolina in 1988. 
The Leatherback is another sea turtle species that you can find during sea turtle season. These are unique because their outer shell, unlike most turtles, is not hard. It's actually, as their name suggests, leathery with longitudinal ridges that make them stand out amongst other species. Leatherbacks are also quite large. In fact, they are the largest sea turtle species out there, and can weigh up to 1,300 pounds. They're highly migratory animals, some of them swimming over 10,000 miles a year from their feeding grounds in Nova Scotia to warmer waters in the hope of laying their eggs and nesting in the Lowcountry. 
If you're lucky, or just keeping your eyes peeled, you might also see green sea turtles during your trip to America's Favorite Island®. In contrast to the Loggerhead turtles, which like to feed on crustaceans and shellfish, green sea turtles are vegetarians. It's rare for green sea turtles to nest on the beaches of Hilton Head Island, but you might still be able to spot a few of them as you kayak through the beautiful salt marshes surrounding the island.  
The last species of sea turtle that like to visit Hilton Head Island is the Kemp's Ridley turtle. Only the luckiest travelers get to see these elusive animals, as they are the smallest and rarest sea turtle species. Similar to the green sea turtles, Kemp's Ridley turtles don't often lay their eggs on the beaches of Hilton Head Island, they mostly visit, like many tourists, to sample some of the delicious blue crabs that inhabit the waters around Hilton Head Island. 
One thing all of the species of sea turtles that like to visit our warm waters have in common is that they are classified as endangered. That's why it's important to remember to give them space as they nest and feed along our beaches. 
HOW CAN YOU HELP 
Protecting the environment and sea turtles today is important so we can ensure that present and future generations can appreciate them. You can do a few things as a visitor or temporary resident of Hilton Head Island to ensure that the sea turtles and their habitat are taken care of and remain healthy. When you visit one of our beautiful beaches, remember to always leave it better than when you arrived. This means taking all of your belongings and cleaning up any trash. This ensures that the turtles will find a pristine beach where they can safely nest, and hatchlings won't have any interference between their nests and the ocean.
If you're traveling with kids, or you're just an avid sandcastle builder, make sure to fill any holes you might dig at the beach before leaving for the day. This helps prevent turtles from becoming disoriented as they look for nesting spots and protects baby turtles from getting lost as they make their way into the ocean after hatching. 
Everyone loves catching the sunrise or sunset at the beach, but if you're visiting during sea turtle season, make sure not to disturb or walk in turtle tracks. Designated turtle conservation workers use these tracks to follow up on sea turtle nests and secure them. If you're lucky enough to stumble upon a turtle nest on your beach walk, observe from a safe distance and try not to disturb the eggs or the mother. These creatures are extremely sensitive to their environment and human intervention can have a negative impact.  
Lastly, if you're renting a house near the beach, make sure to keep any outside lights off during sea turtle season and confirm that any beach furniture or equipment such as surfboards or kayaks are properly stored. If you're walking on the beach at night, try to minimize flashlights and other harsh lights, as these can disturb sea turtles while they nest and disorient hatchlings trying to make their way into the sea. If you do choose to use a flashlight, we recommend using red light flashlights.
These simple steps help keep sea turtles and their environment protected in a continued effort to make sure that these endangered species can survive and thrive for generations to come. 
LEARN AND SEE MORE 
Sea Turtle Patrol HHI is a volunteer organization that monitors the beaches of Hilton Head Island for sea turtle nesting and hatching activity every year,  from May through October. Their main goal is to promote the existence of these endangered sea turtles and to spread awareness through public education and outreach. If you want to join this cause, you can dedicate a nest to someone by donating to the organization's efforts. Sea Turtle Patrol also hosts free public talks every Monday in June, July, and August at Celebration Park from 8-9pm, rain or shine. During this presentation you'll learn straight from the organization's director, Amber Kuehn, about Sea Turtle Patrol's daily efforts to ensure the safety and growth of the sea turtle population, as well as learn more about sea turtle biology and conservation.
Keep an eye out for volunteers wearing white Turtle Trackers of Hilton Head Island t-shirts while you're on America's Favorite Island®. Every evening they make their way down to the beaches to fill in holes left by beach goers, pick up trash and flatten sand castles. By doing this they clear a path to make sure that turtle hatchlings will have an obstacle free journey to their new ocean home. Turtle Trackers is mostly made up of Hilton Head Island residents as well as some visitors. You can keep up with their social media profiles for daily updates on how many reported sea turtles nests there are on Hilton Head Island and all South Carolina beaches each nesting season!  
If you'd like to learn more about sea turtles and the conservation efforts around Hilton Head Island, then you can also visit the Coastal Discovery Museum, a Smithsonian affilate. From June to August, the museum hosts the Sea Turtle Life experience. The program aims to ignite the curiosity for nature in children and adults alike. In this activity, you'll follow the journey of a Loggerhead turtle from a hatchling through adulthood. 
Want to safely get up close and personal with the turtles when you visit the Lowcountry? Try a guided tour! From a leisurely boat ride or on a kayak for a more eco-friendly adventure, local experts will guide you safely while teaching you everything you need to know about these amazing turtles! 
PLEDGE TO PROTECT
Whether you're here for a brief getaway, a seasonal vacation, or you're making America's Favorite Island® your new home, we encourage and request that you do your part to protect this beautiful and unique ecosystem. Request your destination guide, and start planning your unforgettable Hilton Head Island getaway today! 
More Trending Stories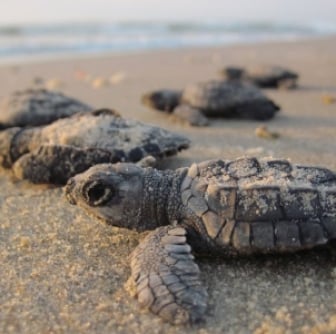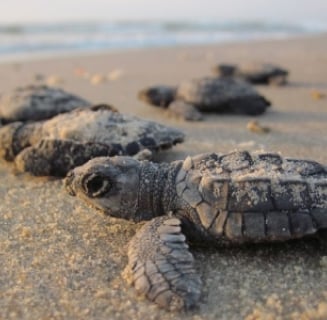 5 Fascinating Facts About Sea Turtles on Hilton Head Island
With its sun-kissed beaches, vibrant coastal landscapes, and a commitment to conservation, Hilton Head Island is a paradise teeming with extraordinary...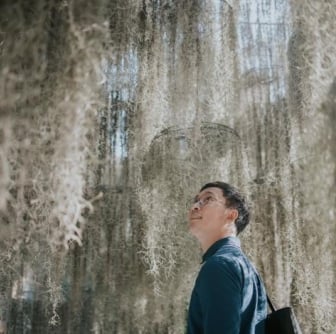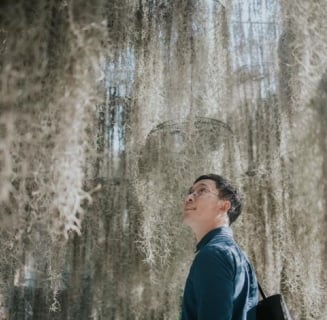 Staying Mindful of Our Impact: Sustainable Practices on Hilton Head Island
Did you know Hilton Head Island was America's first eco-planned community? That our commitment to developing tree cover has been continuously...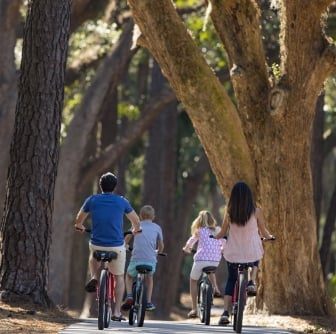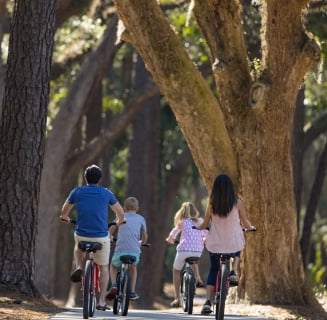 Hilton Head Island Recognized as One of the 'Best Bicycling Communities' in the United States!
Hilton Head Island has been recognized as one of the top 25 bicycle-friendly communities in the United States and one of 39 to achieve "Gold-Level"...