Working Together to Welcome Sea Turtles to Our Beaches
Sea Turtle Season on Hilton Head Island
May through October is nesting season on America's Favorite Island®
Humans are not the only ones who love the 12 miles of the wide-open, pristine beaches of Hilton Head Island. This beautiful, sensitive coastal environment also plays an important role in the conservation of endangered sea turtles. Every year, between May and October, we welcome loggerhead turtles to our beaches where they build hundreds of nests and lay eggs. During the nesting season in 2022, sea turtles made 423 nests here. In true Lowcountry fashion, our community works together to help these visitors nest in safety and make sure the hatchlings can safely make the trek from our warm beaches to their new ocean home.
Two volunteer organizations, Sea Turtle Patrol Hilton Head Island and Turtle Trackers, play an important role in helping turtles during nesting season. On average, a turtle lays 120 eggs in a nest two to eight times over a nesting season, and these organizations tag, track, and monitor it all with morning and evening patrols. These groups organize beach cleanups and educate the public on how they can help these special species thrive on Hilton Head Island during the nesting season.
Keeping turtles safe is a proud tradition on our island and you can join in on your next visit to Hilton Head Island during nesting season. Sea turtle hatchlings use the light of the moon to get to the ocean, so artificial lighting visible from the beaches can be confusing and make it impossible to get to their sea home.
That's why it's important to:
Turn off lights at night
Close window shades
Fill in holes on the beach
Do not disturb any nests you might find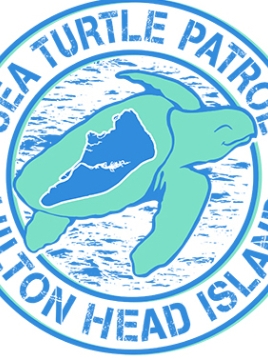 SEA TURTLE PATROL HILTON HEAD ISLAND
This volunteer organization patrols the beach every morning from May 1st until the end of hatching season. Sea Turtle Patrol searches for nesting loggerhead tracks, identifies nests, and marks them with poles. After 45 days of incubation, the nests are monitored for hatching. Once these baby sea turtle hatchlings emerge from the nest, Sea Turtle Patrol records the date and waits for three days to pass before taking inventory, counting and categorizing the contents of the nest. These volunteers work under the direction of Amber Kuehn, the South Carolina Department of Natural Resources permit holder for Hilton Head Island. This organization also plays a big role in promoting awareness of how visitors can help preserve, conserve, and protect these endangered species.
Sea Turtle Talk
Join Amber Kuehn for a 45-minute presentation at the Lowcountry Celebration Park every Monday in June, July*, and August this summer to learn more about sea turtle biology and what Sea Turtle Patrol HHI does on a daily basis to ensure the safety and growth of our sea turtle population.
Nest Dedications
Support the Sea Turtle Patrol by honoring a special person with a nest dedication. This person will receive a personalized card with a nest number and your sincere message. 
Turtle Trackers
Turtle Trackers is a volunteer organization that helps save and protect endangered sea turtles on Hilton Head Island. Keep an eye out for the volunteers wearing white Turtle Trackers t-shirts every evening as they go down the beaches filling holes left by beach goers, flattening sand castles, and picking up trash. These actions clear a path to make sure baby sea turtles have an obstacle-free path to their new ocean home after they hatch. This organization is made up of residents and visitors of Hilton Head Island who help educate the general public on how they too can help conserve loggerhead sea turtles. You can visit Turtle Tracks online for daily updates on how many reported sea turtle nests there are on Hilton Head Island and all South Carolina beaches.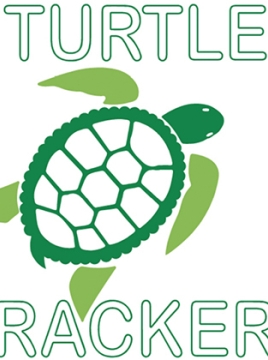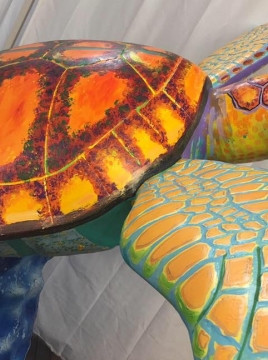 Myrtle The Turtle
It's hard to miss the vibrant turtle sculpture, Myrtle the Turtle, at the Beach House Tiki Hut near Coligny Beach. Painted by local artist Mira Scott, the sculpture is based off a real sea turtle that has been nesting on Hilton Head Island since 2011. But unlike most sea turtles, Myrtle doesn't take the typical two year break between nesting seasons meaning she's nested here every other year. This prolific turtle laid eight nests in 2017, which is the highest documented number laid by an individual sea turtle in a single nesting season on Hilton Head Island. She's at least 60 years old and we'll know Myrtle is 90 when her granddaughters start nesting as well.
Yearly Turtle Nests on Hilton Head Island
A number of factors contribute to how many nests sea turtles make on Hilton Head Island each year. The start date of nesting season can change depending on the water temperature, with warmer water temperatures meaning an earlier start time. Along with environmental factors, the conservation efforts by volunteers on Hilton Head Island can help determine how many nests are made every year.
2022: 423
2021: 283
2020: 285
2019: 467
2018: 179
2017: 322
2016: 410
2015: 328