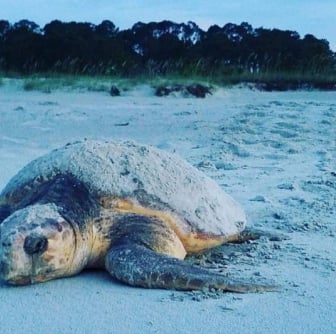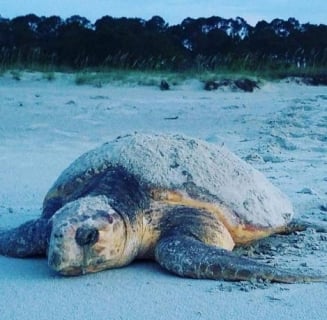 Everything You Need To Know About Hilton Head Island Sea Turtles
By Hilton Head Insider
Something magical happens every summer on the shores of Hilton Head Island's beaches. The endangered loggerhead sea turtle, the ancient mariner of the sea, emerges from the Atlantic Ocean to nest and lay her eggs. If you're visiting Hilton Head Island from May through October, you just might luck out and see the hatchlings, or their tracks, in the sand. It's a once-in-a-lifetime experience that gets locals and vacationers excited for the possible sightings each year!
Loggerheads and their sea turtle cousins (leatherbacks, green sea turtles, hawksbills, Olive Ridley turtles, and Kemp's Ridley turtles) descend from the Archelon, a shelled reptile that swam in primordial seas way back when as dinosaurs roamed the earth. Giant fossils of these ancient beasts have been found as far away as South Dakota and have measured up to 16 feet in length.
The Archelon's size still runs in the family, if only on a smaller scale. The loggerhead sea turtle gets its name for its large head that's covered in scales resembling a pine log. Some think "loggerhead" might translate to "larger head".
THE LIFE OF A LOGGERHEAD SEA TURTLE
A loggerhead hatchling begins its journey to the Gulf Stream from the shores of Hilton Head Island, leaving little turtle tracks in the sand along the way.
What happens after a sea turtle hits the water for the first time is unclear. The period of time it takes a sea turtle to return to coastal waters to forage as a juvenile is often called the "lost years". It's hard to keep track of the young turtles as they make their first moves. What we do know is that the "lost years" can take as long as a decade.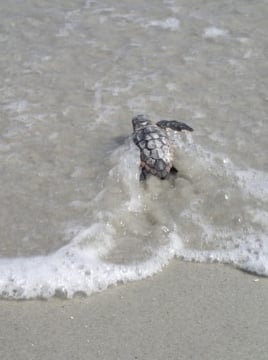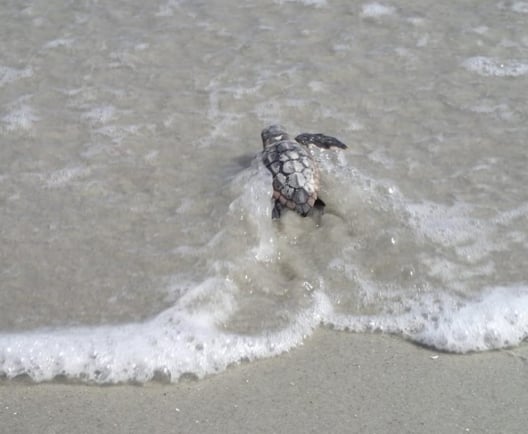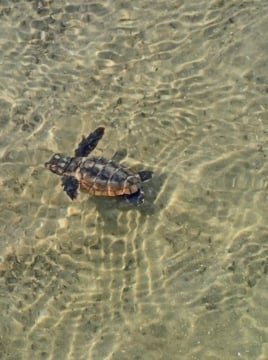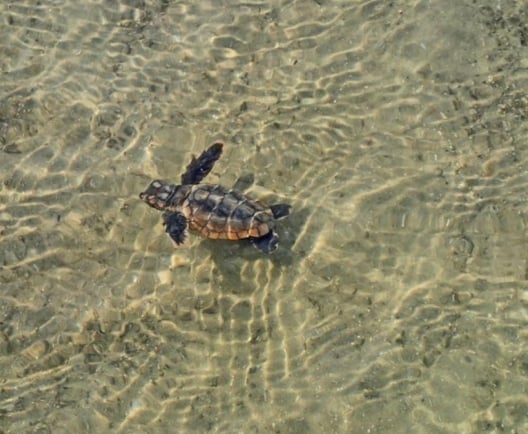 Around the ten-year mark, adult sea turtles begin their migration to beaches around the world in order to nest. Female sea turtles come to shore to lay eggs; usually near the location where they first hatched. A sea turtle will nest several times every 2-4 years or so during nesting season for the duration of their life. Sea turtle eggs hatch roughly 60 days after they are laid, and then the cycle begins all over again.
HILTON HEAD ISLAND & CONSERVATION: HOW WE HELP SEA TURTLES
Scientists estimate a sea turtle's lifespan to be roughly 100 years—a pretty long, full life. But, here's the thing: to do so successfully, they need our help.
From leatherbacks to loggerheads, six of the seven species of sea turtles are threatened or endangered. From the moment they hatch, these gentle reptiles face many dangers on their journey to the sea and back again. From land and sea predators, to accidental capture and entanglement in fishing gear, to the loss of nesting and feeding sites, to ocean pollution, it's a long and dangerous journey for a sea turtle.
On Hilton Head Island, we take the conservation and protection of our natural wonders seriously. The Town of Hilton Head Island requires light structures visible from the beach be covered or turned off between the hours of 10p.m. and 6a.m. during nesting and hatching season (May – October).
The Sea Turtle Patrol Hilton Head Island volunteers patrol our beaches daily during these crucial months to mark and track of sea turtle nests, minimize pollution, and to raise awareness of the importance of the loggerhead sea turtle's protection.
Our partners are doing their part as well. For example, The Westin Hilton Head Island Resort & Spa has invested in a special film which covers the exterior windows which line the beach of their new event space specifically to ensure the bright nighttime lights from events don't deter or distract sea turtle mothers or their hatchlings. This is just one way our local businesses show their commitment to the conservation of these endangered creatures and standing commitment to conserving the Island's natural beauty.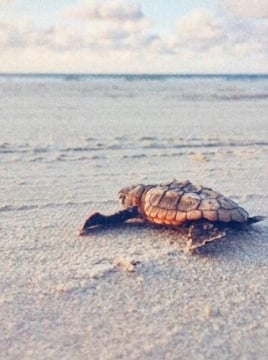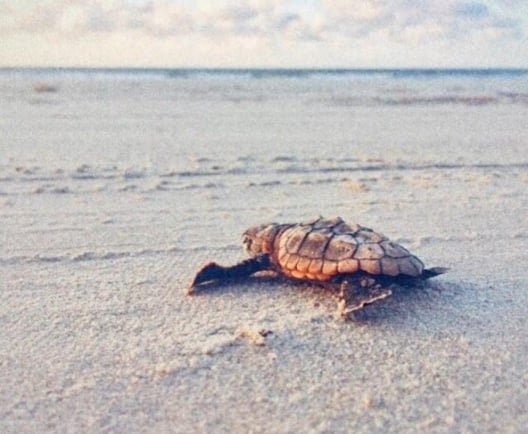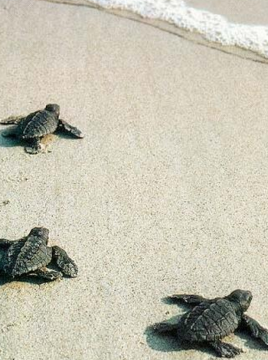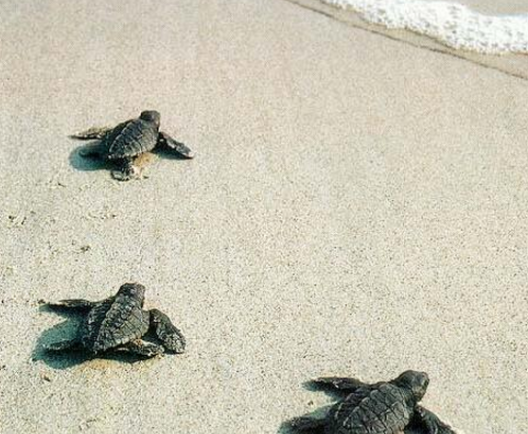 WHAT YOU CAN DO TO PROTECT SEA TURTLES WHEN YOU VISIT HILTON HEAD ISLAND
1. LIGHTS OUT
This is the easiest, and most effective, way you can help protect loggerhead sea turtles. If your accommodations/property faces the beach, turn off your outside lights and close your blinds after 10 p.m. from May 1 - October 31 each year.
When sea turtle hatchlings emerge from their nest, they turn to the brightest horizon and make a dash for it. Visible lights from beachfront properties or streetlights can disorient sea turtles and cause them to walk inland instead of to the waters. Distractions like these could result in dehydration and also place these critters at a greater risk of being spotted by predators like crabs and birds. In the early months of the season, lights can also discourage female sea turtles from nesting.
2. TIDY UP
Beach litter is another common danger to sea turtles and their hatchlings. They often mistake balloons, plastic bags, fishing gear, and more for food. Keeping our pristine beaches clean and tidy ensures hatchlings make it to the ocean safe and sound without ingesting harmful trash.
3. USE YOUR ZOOM LENS
If you see a turtle, hatchling, or nest on your beach day or bike ride, give them some space. Bright lights and other distractions could cause turtles to abandon their nests or get lost on their journey to the sea. Flashlights at night are discouraged, and instead, a special long-wavelength flashlight, which typically is a red LED-style light, is recommended.
4. ADOPT A NEST
Participating in the Coastal Discovery Museum's Adopt-A-Nest program provides important funds to support the Museum's educational programs. These programs, like the Sea Turtle Life experience, inspire visitors and locals to care for the Lowcountry and all of its natural wonder.
After reading about Hilton Head Island's raddest reptile, you're probably wondering: Where can I see one for myself? Your best bet is to book your stay in a beachfront vacation property or resort during the months of May through October. Turtles typically visit and nest at night, but visitors have been lucky enough to see them sometimes before sunrise or right after sunset. Browse our vacation offers and start planning to visit Hilton Head Island this summer!
More Trending Stories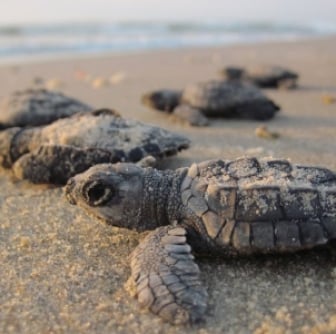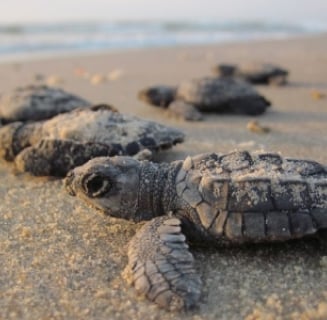 5 Fascinating Facts About Sea Turtles on Hilton Head Island
With its sun-kissed beaches, vibrant coastal landscapes, and a commitment to conservation, Hilton Head Island is a paradise teeming with extraordinary...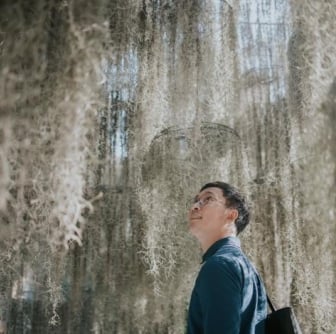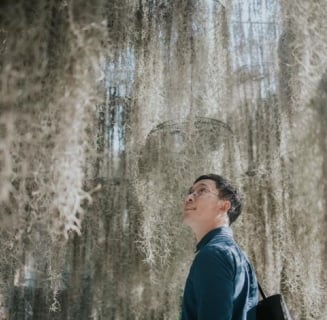 Staying Mindful of Our Impact: Sustainable Practices on Hilton Head Island
Did you know Hilton Head Island was America's first eco-planned community? That our commitment to developing tree cover has been continuously...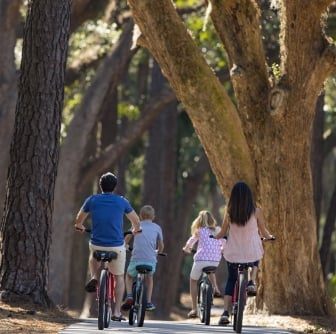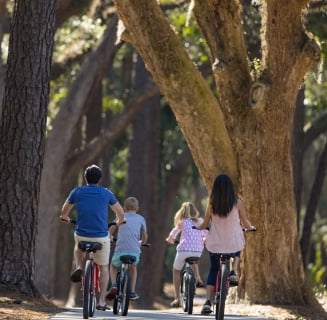 Hilton Head Island Recognized as One of the 'Best Bicycling Communities' in the United States!
Hilton Head Island has been recognized as one of the top 25 bicycle-friendly communities in the United States and one of 39 to achieve "Gold-Level"...