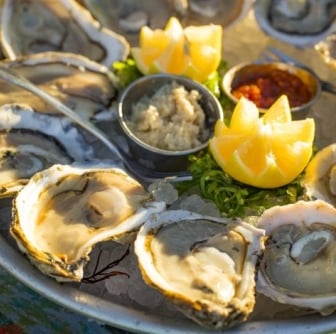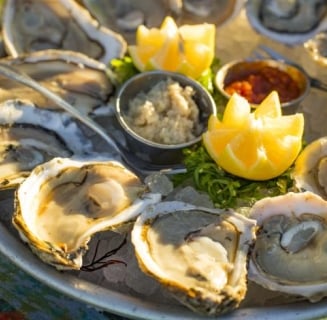 For the Seafoodies: Your Guide to Hilton Head Island Seafood
By Hilton Head Insider
You can't say "Hilton Head Island" and not think fresh, delicious, local seafood. Our coastal waters, sweeping marshes, secluded inlets and lazy tidal creeks are home to a plethora of fish and shellfish, and whether you catch it yourself or order an authentic dish from one of our restaurants, you'll be in seafoodie heaven.
If seafood isn't so much a staple where you live, or you're planning your dining itinerary for your next visit, you can learn all about our Island's best seafood in this handy blog. Discover what's local, when it's in season, where to try it, and how to make it for yourself at home.
If this makes you extra hungry for some local Hilton Head Island seafood, you're in luck! The Annual Hilton Head Island Seafood Festival is a family-friendly, week-long culinary and cultural celebration showcasing the very best in savory eats, crafted cocktails, gourmet wines and more. Over the course of seven days, you'll also have the opportunity to enjoy dishes prepared by celebrity guest chefs, barbecue from some of the best of Southern pitmasters, hands-on cooking demos, eclectic tastings, live music and much more! 
Ready? Let's dive in!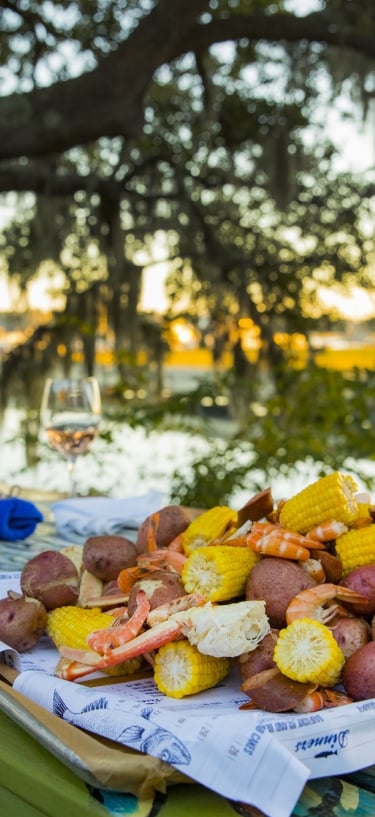 We're suckers for shellfish in the Lowcountry. And with such an abundance all around us, it's easy to get see why. Atlantic oysters are one of five types of oysters harvested in the U.S., and can be found in nearby creeks and wetlands. The flavor profile of Atlantic oysters is briny and savory, with a crisp texture—perfect for pairing with a glass of light-bodied, dry white wine. Varieties like Blue Point, Baritaria Blade, and Wellfleet are just a few of our local favorites.
Shrimp is synonymous with this part of the country. A pillar of the South Carolina economy and food culture, shrimp can be found on almost every menu on the Island. Local fishermen and women haul in between one and two million pounds of these crustaceans each year, and thanks to sustainable initiatives and practices, the long-term health of our coastal environment remains protected from overfishing. Brown and white shrimp are common in South Carolina, with brown shrimp being small and firm, while white shrimp are larger and more tender. Their flavor is similar, with the brown variety having a more assertive shrimp taste. For stews and gumbos, brown shrimp hold up much better, and if you're having a good old fashioned Lowcountry Boil white shrimp are the way to go.
You can't leave Hilton Head without trying our famous Atlantic Blue Crab. While strolling along salt marshes and tidal creeks, you'll likely see small buoys marking crab pots—the primary method for harvesting. While these pots can be fished from year-round, there are some restrictions on the crabs fishermen can keep. Crabs with shells measuring less than five inches across, and females with eggs must be returned to the water. Shortly after these cerulean beauties shed their tough outer shell, they're taken from the water and are ready to be served. Want to get hands-on? Visit the Coastal Discovery Museum to learn about the life cycle and importance of the blue crab, then catch, cook, pick, and taste for yourself.     
When it comes to fish, we're really spoiled for choice. In our near-shore waters (5-22 miles from the beach) are home to mahi, redfish, triggerfish, grouper, snapper, flounder, and more. Like the more well-known grouper, local triggerfish has a firm, white flesh and mild flavor that is the ideal canvas for unique culinary creations. You'll find it at plenty of Island restaurants, and if you'd like to try your hand at cooking it yourself, it's often on ice at local fishmongers. Brilliantly hued red snapper is one of the most sought-after catches around, and thanks to concerted conservation efforts, 2018 was the best season for it in years. Red snapper certainly make for a great photo op on the water. Browse our local fishing charters and cast away!
Further out to sea, the water gets cooler and the fish get bigger. Mahi-Mahi, blackfin and yellowfin tuna, wahoo, sea bass, and tilefish could all find their way onto your line if you're out fishing, and if you're on land, they'll certainly feature on your plate.
When It's Freshest
Warm waters around the Island make for yearlong seasons for some seafood, and extended seasons for many others. For oysters, peak season is fall through winter. Ever hear the adage that oysters should only be consumed in during months that contain the letter "R"? Shuck it. As long as they're fresh, they're good to go! Oysters are simply more meaty in the winter months. Shrimp season is from May/June through October—and can last even longer if the weather stays warm.
Snapper season can be fairly short, and is dictated by the National Oceanic and Atmospheric Administration. In 2018 the window for recreational snapper fishing just a few days in August, and commercial fishing was allowed between August and December. For a more sustainable alternative to snapper, we suggest local triggerfish or grouper for a similar flavor profile. Don't forget to pick up your fishing license if you're going it alone!
In addition to blue crab, clams, seabass, and swordfish are fished all year, so you'll find them on menus all around the Island. When dining out on Hilton Head, feel free to ask your server what's just come in off the ship, there's always something new to discover!
Where to Eat it On The Island
You could easily spend your entire vacation sampling succulent seafood all over Hilton Head. Of course, oysters should be on your culinary itinerary, and the Old Oyster Factory is a fantastic place to start. Fresh, fried, or baked, you can't go wrong. If you're a true seafoodie, you've likely tried Oysters Rockefeller in your travels, but what about Oysters Savannah? Baked and topped with shrimp, crab, smoked bacon and cheddar cheese, it's the essence of Lowcountry in one perfect bite. For a truly authentic taste of Island life, check our events calendar for local oyster roasts. Informal and community-focused, watch as steamed oysters are literally shoveled onto long tables. Vacationing in October? The Hilton Head Oyster Festival is the perfect time to sharpen your shucking skills.
"Wonderful selection of oysters and very generous servings of seafood. We were by the window looking out at Broad Creek at high tide. Wonderful scenery . We live on the Island and kind of eschewed this place thinking it was a tourist trap. Our family was visiting so we took a chance. We were very pleasantly surprised by the quality and quantity of food and the ambiance! Highly recommend."
Bob A. Hilton Head, SC - TripAdvisor
Like oysters, shrimp is served up in dozens of ways around here—from Cajun creations like etouffee to Latin-inspired tacos. But the true Southern staple is shrimp and grits. Head to A Lowcountry Backyard Restaurant for some of the state's very best. Sautéed shrimp and smoked sausage are topped with shaved green onion and applewood bacon cream sauce on a bed of creamy grits, plus the homey atmosphere will make you feel like you're visiting old friends. For even more festival fun, the Island's Shrimp Festival in September promises a shrimp tasting contest, food, craft beer, live music, fun for children, and more.   
"My daughter and I had the Shrimp and Grits and it was excellent. The tastiest I have had on Hilton Head Island, by far."
BobbyAngelo123, Northville, MI - TripAdvisor
For blue crab, you can't get much fresher than Hudson's Seafood House on the Docks. They have their own shedding tanks on site during the spring, so as soon as the crabs back out of their shells, they're served up in the restaurant. Try them on "naked" (fried or sautéed), in a po' boy, as crab cakes, or as crab benedict at brunch on Sundays.  
"My family and I had a very enjoyable lunch at Hudson"s Seafood House on the Docks. The service was excellent and the food delicious. You have to try the crab cakes, so moist and chock full of crab, hardly any filler what so ever."
Mdiveris, Manorville, NY - TripAdvisor
Unpretentious and a little unexpected, The Sea Shack just up the road from Coligny Beach is where locals go for a true seafood feast. Wahoo, mahi-mahi, triggerfish, flounder, grouper, snapper, swordfish, conch—you name it, and it's likely to be on the menu here. Choose some sides and your cooking method, and dig in!
"The seafood was fresh and some of the best I have had anywhere and the price was extremely reasonable. I ordered Ginos Special which comprised of blackened snapper, tilapia and flounder all grilled perfectly."
Senegal78, Concord, NC - TripAdvisor
How to Have it All at Home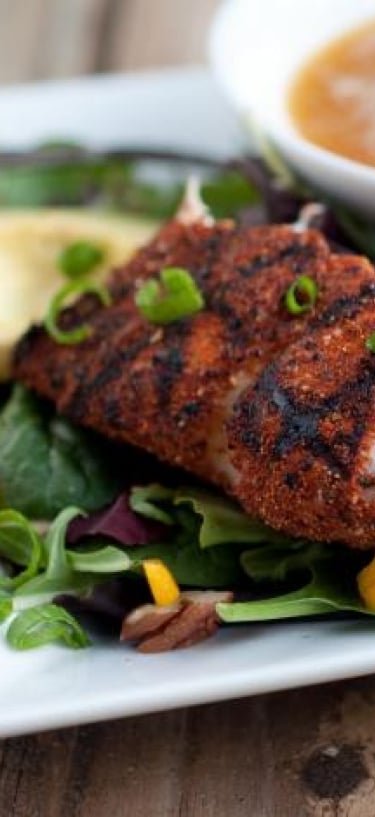 If you've made it this far and your mouth hasn't started watering, it's about to. To tide you over until you can get to Hilton Head Island, here are some of our favorite recipes from around the Island you can make at home.
Recipe courtesy of Hudson's Seafood House On The Docks
Serves 4
Ingredients for Blackened Local Mahi Mahi
4 Mahi Mahi Filets, 7 oz each
Hudson's Blackening Seasoning (available at www.Hudsonsonthedocks.com)
2 oz fresh Jumbo Lump Crabmeat
1 cup Spinach
2 tbsp Mayonnaise
2 tbsp Parmesan
 Method for Blackened Local Mahi Mahi
Preheat oven to 350°
Lightly season with blackening season.
Sauté in pan on both sides for about one minute.
While fish is cooking, in a mixing bowl add mayonnaise, crab, spinach, and parmesan.
Remove fish from pan and place spinach mixture on top.
Cook in oven for about 8 minutes.
Method for Tomato Coulis Sauce
Toss 3 vine ripe tomatoes in extra virgin olive oil and salt and pepper.
Then roast tomatoes at 350° for 20 minutes.
Roast 3 garlic cloves in extra virgin olive oil for about 15 minutes.
Let cool and put into blender with tomatoes.
Add ¼ cup of chicken stock and ¼ cup of cream.
Blend until smooth.
Put on bottom of the plate, and then add fish and crust.
Chris Carge - Executive Chef
Hudson's Seafood House on the Docks
THE CRAZY CRAB HARBOUR TOWN SHE CRAB SOUP
Recipe courtesy of The Crazy Crab Harbour Town
Serves 8
Ingredients for The Crazy Crab Harbour Town She Crab Soup:
1 large onion (diced)
2 stalks of celery (chopped)
3 cloves of garlic (minced)
1 gallon water
5 oz. crab base (found in your grocery store or online)
½ oz. lobster base (found in your grocery store or online)
1.5 lbs. crab claw meat
.25 oz. black pepper
1 tsp. black pepper (more to taste)
2 Tbs. Old Bay seasoning (more to taste)
1 ¼ c. Sherry
Roux (Recipe from the Food Network courtesy of Alton Brown here)
Preparation for The Crazy Crab Harbour Town She Crab Soup:
Combine all in large stock pot. 
Place the stock pot on medium-high heat and bring to just a boil.
Once the pot has just reach boiling, turn off the heat and whisk in the roux.
Stir in the Sherry.
Serve immediately, or simmer until ready to serve.
THE BLACK MARLIN'S GRILLED LOCAL GROUPER TUSCAN
Recipe courtesy of Black Marlin Bayside Grill
Serves 4
Ingredients
Two Local Beefsteak tomatoes or 4 Roma tomatoes (diced)
1 tsp. Fresh chopped Garlic
6 large leaves of fresh basil (finely diced)
½ cup extra virgin olive oil
1 small red onion (finely diced)
Salt and pepper to taste
4 local grouper fillets (approx. 8 ounces each)
Directions
Chop tomatoes, garlic, basil and red onion
Mix together with olive oil and salt and pepper
Grill fish fillets
Top with mixture and serve
How to grill grouper fillets
Clean the grill well before getting it hot. This will help ensure the fish will not stick while cooking. Start with a grill brush and remove any burnt-on material. Afterwards with an old towel that has been slightly oiled with plain vegetable oil, rub the grill down. This is what chef's call "seasoning the grill".
Preheat the grill for 5 minutes over high heat. Once the grill is very hot, reduce the flames to a medium setting and grill the grouper filets for 4 to 5 minutes on each side or until the fish as reached an internal temperature of 145 degrees.
Share your culinary creations on social media using the hashtag #LowcountryLife, and start planning your seafood-centric vacation to Hilton Head Island here.
More Trending Stories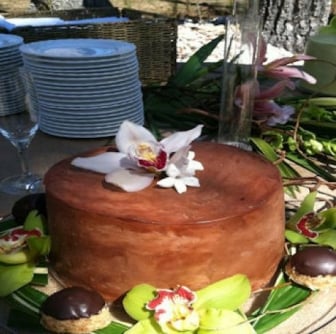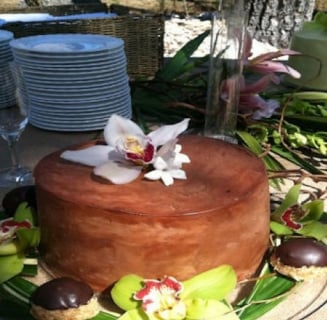 The Cottage – Café, Bakery & Tea Room's Chocolate Lavender Love Cake
Recipe courtesy of The Cottage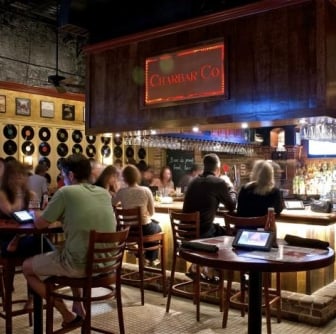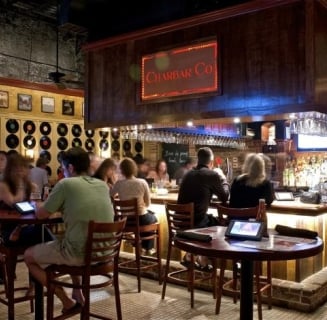 Food Finds and Good Times in Hilton Head Island
If you are in any way familiar with Hilton Head Island, you already realize that restaurants here are so good; they provide reason alone to visit our...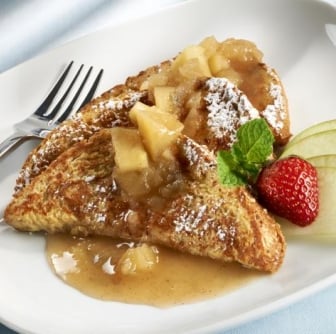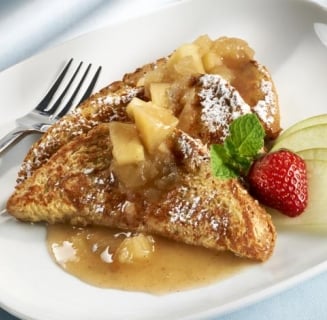 Corner Perk Spiked Caramel Apple French Toast
Recipe courtesy of The Corner Perk Cafe
Basic French Toast
You will need:
sliced Challah bread
1 pint heavy cream
4 eggs
1 tsp cinnamon
...