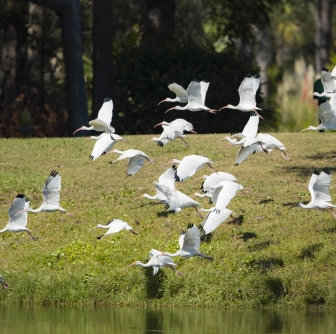 The 5 Best Places to See Winter Wildlife on Hilton Head Island
By Todd Ballantine
1. SEA PINES FOREST PRESERVE
Located in the in the lower (northern) end of the The Sea Pines Resort and community, the 605- acres, permanently protected Sea Pines Forest Preserve has vast hardwood and pine forest, a series of freshwater lakes, secluded wetlands, prehistoric and historic sites, and miles of trails for walking or horseback riding. Check out the lakes to see migratory ducks, like bufflehead, ruddy, and goldeneye. You'll have a chance to see the Hilton Head whitetail deer—a unique subspecies that is smaller than its mainland deer. And if cloud cover rolls in, listen for the barred owl: its "who cooks, who cooks for you" muffled call may signal rain.
2. SOUTH BEACH
Pick a warmer day to walk to the Island's southern tip named South Beach. This is a dynamic strand, subject to strong currents and churning waves. Watch for flocks of double-crested cormorants in V-formation (the look like skinny geese), loons (common and red-throated), and bottlenose dolphin cavorting close to shore. Beachcombing is productive on South Beach: watch for big knobbed whelk snails (relative to conchs) and colorful, branchy seawhip corals.
3. FISH HAUL CREEK PARK AND BEACH
Follow Beach City Road for about two miles and turn in to the entry to Fish Haul Creek Park. Trails wend through dense oak forest, home for great horned owl, raccoon, gray fox, bobcat, and migrating tree swallows. Follow the main trail, which leads you to the dynamic Fish Haul Creek beachfront. This is THE beach to see migratory shorebirds: curlew, dunlin, dowitcher, godwit, red knot, willet, and lots of "peeps" (small sandpipers). This is an eroding beach, so check a tide chart and visit during the low cycle—that's when the birds feed in the mosaic of tidal pools.
4. PINCKNEY ISLAND NATIONAL WILDLIFE REFUGE
Drive across the bridge leading from Hilton Head Island and make the first right-turn into Pinckney Island National Wildlife Refuge. This 4,000-acre gem offers miles of trails through every habitat found in the Lowcountry, plus managed fields and forest. Simply follow the main path and you'll encounter freshwater ponds, of which one hosts colony of egrets and herons. The fields are home to bluebirds, countless sparrow species, kestrels and harriers (small hawks), and perhaps a bluebird or two braving the cool weather. The refuge salt marsh supports a huge population of wading birds, including white ibis, wood stork and snowy egret.
5. CALIBOGUE SOUND
Join a kayak eco-tour or a cruise in historic Calibogue Sound. The name Calibogue comes from the Cusabo Indian word meaning "deep water." The kayak allows you to follow herons and oystercatchers into shallow marsh creeks. Only here will you catch hyena-like call of the clapper rail, locally called "marsh hen." Some cruises trawl (pull nets) and harvest shrimp and many other oddities of sea life.
More Trending Stories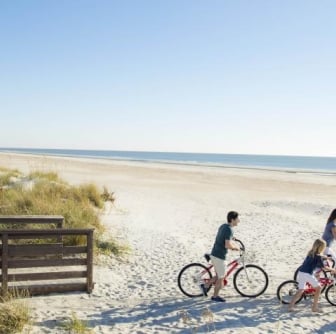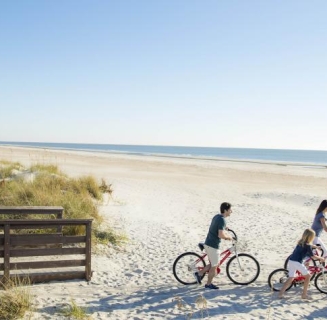 Best Bike Trails on Hilton Head Island
With over 60 miles of leisure pathways winding through lush forests, serene beaches, and historic sites, there is plenty to see and do on America's...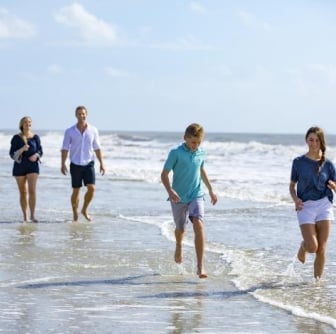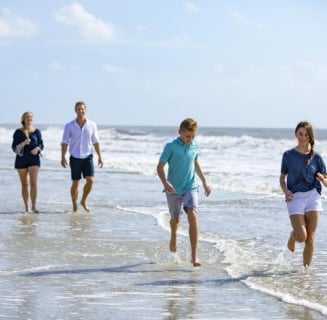 Jogging on the Beach
One of the joys of living near, or visiting, the ocean is being able to easily, and daily, enjoy its assets…the beach, the water, the seafood, and the...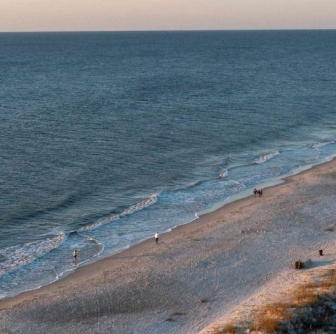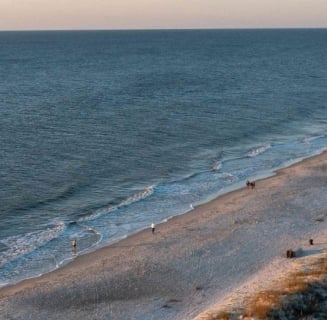 Five Ways to Unplug on Hilton Head Island
Avoid the unplugging anxiety on Hilton Head Island by filling your day with the beautiful scenery characteristic of America's Favorite Island®...