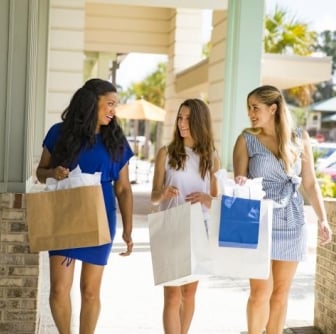 Your Guide to Shopping on Hilton Head Island
By Hilton Head Insider
No matter what type of shopper you are, you'll find something to take home while vacationing on Hilton Head Island.
Are you visiting the Island to spend time on the golf course and want to freshen your look before you tee off? There are pro shops for that. Looking to display one-of-a-kind Lowcountry art in your home that will stoke memories of your time on America's Favorite Island® and have you counting the days until your next visit? Find art galleries to grow your collection and appreciation for fine art.
If you're looking for something to make your vacation even more enjoyable, you're sure to find it at one of Hilton Head Island's many specialty shops, markets, and boutiques. 
Here's a guide to give you a glimpse at the best places to shop and discover a piece of Hilton Head Island that you won't find anywhere else.
BOUTIQUES FOR FASHIONABLE FINDS
Vacationing on Hilton Head Island is a great way to take a break from your routine and refresh both your mind and body. So why not refresh your wardrobe while you're at it? Find boutiques owned by locals who are experts and take a personal approach to curating style that brings Southern charm and contemporary fashion together.
BIRDIE JAMES
At Birdie James, the style aesthetic falls somewhere between classic and modern. Their vision is for you to find everyday staples with a high fashion influence, so you can balance fitting in and authentically expressing yourself through pieces that accentuate your individual style. At Birdie James, their philosophy is that when you're having a great day and you feel good, you love your look. And because you're feeling good, you're more confident! Find pieces that make you confident at this Shelter Cove Towne Centre boutique.
COASTAL BLISS
It's one thing to stand out with bright colors and bold accessories. Pulling off the look while staying fashionable is more difficult. This is where Coastal Bliss comes in, a small boutique that's eclectic and playful, but fashion forward. Find the prints you crave, like this sleek snake print satin jumpsuit or this comfortable stardust pullover sweater. Coastal Bliss carries limited quantities to ensure you'll stand out with your unique garments.
SPARTINA 449
Find upscale, designer handbags inspired by Lowcountry's casual elegance and natural beauty at Spartina 449. This company started on Daufuskie Island, a neighboring island separated from Hilton Head Island by the Calibogue Sound. Now Spartina 449 has stores across the Carolinas, Georgia, and Florida. The name comes from the saltmarsh cordgrass, or Spartina alterniflora as it's known in Latin, that grows along the South Carolina coast combined with the address of the cottage on the island where the idea for the company started. Each Spartina accessory has a mermaid insignia, an icon that will continue to remind you of your visit to Hilton Head Island wherever you are.
GIGI'S BOUTIQUE
When you're looking for the latest in women's fashion trends, stop by Gigi's Boutique in Bluffton. Owned by sisters Anna Hewett and Emily Burden, Gigi's girls bring their personalized approach to finding contemporary looks, helping women of all ages find their Lowcountry style. Find comfortable loungewear, perfect for those days when you're hanging out with your friends and family at your vacation rental or villa, but still want to feel and look great.
CULINARY SHOPS FOR FRESH AND LOCAL EATS
The island is full of restaurants and exquisite dining experiences, no matter what flavors you crave. Sometimes you want to bring the flavors that delight your taste buds during your culinary adventures back to your laid-back accommodations. There are also great shops to stop by before you pack your cooler with the tastiest snacks for the best beaches in South Carolina.
MICHAEL ANTHONY'S
Enjoy the comfort of Italian cuisine while vacationing on Hilton Head Island. Stop by the Market Cafe at Michael Anthony's Italian restaurant to pick up a four cheese manicotti you can pop into the oven at your vacation spot and have a meal ready in less than an hour. Or find veal ravioli, potato gnocchi, and meatballs along with specialty sauces made with fresh ingredients that are authentically Italian.
BENNY HUDSON SEAFOOD
With five generations of the Hudson family supplying fresh seafood to Hilton Head Island and operating Hudson's Seafood House on the Dock, it's safe to say they know what they're doing at Benny Hudson Seafood. Stop by the marketplace to pick up local trout, cobia, snapper, and other fish caught on boats that unload daily at the docks of Benny Hudson. From April to December, enjoy fresh shrimp from these longtime members of the South Carolina Shrimpers Association. Feel good about eating local, sustainable seafood that's prepared in a sulfite-free facility.
SPORTING GOODS
There's a time and place for relaxing on America's Favorite Island®.  There's also plenty of time and wide open outdoor spaces to get out on the water, tee off on golf courses without wait times, and explore the 60+ miles of leisure pathways for bicycling. Find sports apparel that not only looks fashionable, but also protects you from the elements and keeps you comfortable while you play.
OUTSIDE HILTON HEAD
Since 1979 Outside has been the go-to source for grass roots, feel-good energy on Hilton Head Island. Outside offers Kayak Tours, Stand-Up Paddle-boarding Clinics, Daufuskie Island Tours, Charter Fishing, Board and Boat Rentals, Kayak Fishing, Cruises, Dolphin Watching, Beachcombing, Kid's Camps, Surfing, Backwater Boating, Water Skiing, Bike Tours, Tubing, Private Island Adventures and more! In addition to providing a multitude of excellent programs 365 days a year, Outside Hilton Head offers a retail store loaded with everything you need to prepare for your adventure.
PALMETTO DUNES PRO SHOPS
There are always ways you can improve your game while playing the courses of the island. While you can't pick up a better swing from a pro shop, you can find apparel and equipment that'll help step up your style as you play. Each of the three pro shops at Palmetto Dunes Oceanfront Resort features their own specialty brands including golf clothing from Peter Millar and Travis Mathew. Take home a golf shirt so you can remember your time on the beautiful and challenging Arthur Hills course as you dream of returning to the island for another round or two. 
SOUTHERN TIDE
Hilton Head Island is known as a golfer's paradise with 33 world-class courses and great weather all year round. No matter how you explore the island, do so in style with Southern Tide's very own Skipjack polo shirt, the product that started this South Carolina lifestyle brand in 2006. 
SHOPS WITH ART FROM LOWCOUNTRY AND BEYOND
It's no surprise that an island nestled along the Atlantic coast and surrounded by beautiful and diverse nature also inspires a flourishing arts and culture scene. Shop fine art galleries and visit shops where you'll see art showcased from across North America and of course, the Lowcountry.
NASH GALLERY
Find fine art at Nash Gallery that you won't find anywhere else on Hilton Head Island, carefully curated from over 150 artists from across North America. Artwork is procured from juried festivals, so you know you'll find the latest trends in American art from this family-owned and operated gallery. Find simple jewelry or wearable art pieces that stand out or ceramic platters, plates, and bowls  that not only look stunning but are practical for serving food in a beautiful fashion.
CAMELLIA ART
Camellia Art has showcased paintings, art, and sculptures from artists from the coast of South Carolina to the coast of California for over 25 years. Discover the watercolor paintings of part-time Hilton Head resident Robbie Laird, painted with large brushes to create mystery and ambiguity. They're also experts in custom framing, helping your latest masterpiece standout even more!
GULLAH SWEETGRASS BASKET CREATIONS
Take home a distinctive sweetgrass basket with a storied past from Gullah Sweetgrass Baskets Creations. Michael Smalls is a seventh generation basket sewer, taught by his great grandmother. He's joined by his former apprentice, Dino Badger, in creating these baskets in the handed-down tradition that started in Sierra Leone. Learn about the history of the Gullah natives in South Carolina and bring home a piece of it with a small knotted fruit bowl or the popular mini oval bread basket. 
BRANCHES
Add some greenery to your vacation rental or villa then take it home with a permanent botanical arrangement from Branches. A eucalyptus and cotton bouquet livens up a coffee table while you stay on Hilton Head Island. Find antiques, repurposed vintage items, and gifts produced by local artisans such as the blue white wave pots you can fill with your own favorite plants. Have an idea for a floral arrangement? The designers of this family-owned and local business can bring your green dreams to life.
COME SHOP ON OUR ISLAND
Now that you have a taste of all the unique shopping experiences you'll find on Hilton Head Island, start planning your stay on our island. Have a favourite store to shop while on America's Favorite Island®? Tag your best shopping finds on social media with #LowcountryLife. Whether you like to make a list and find specific items or go with the flow and browse the shops of Hilton Head Island, you're sure to find something memorable every time you visit.
More Trending Stories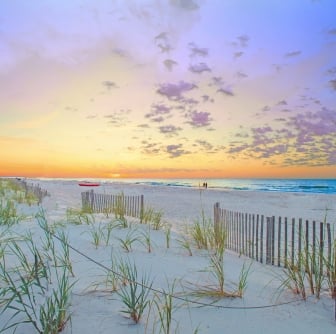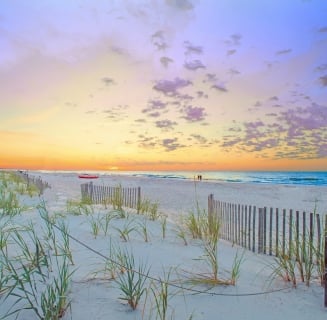 7 Reasons Why Hilton Head Island Should Be on Your Bucket List
From our stunning natural beauty, green culture, and wildlife protection initiatives to our Lowcountry lifestyle and warm Southern hospitality: There...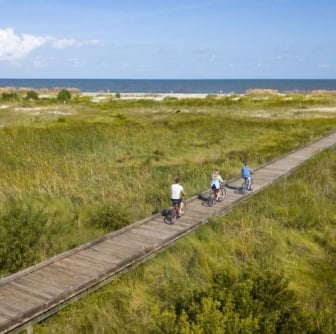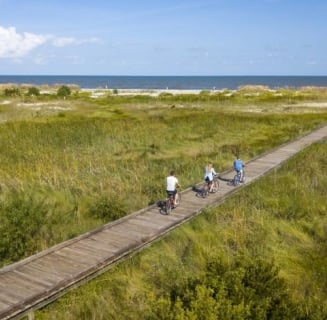 How to Spend 48 Hours on Hilton Head Island
Hilton Head Island offers a unique and relaxing vacation experience unlike anywhere else—and everyone, at some point, should make their way to America...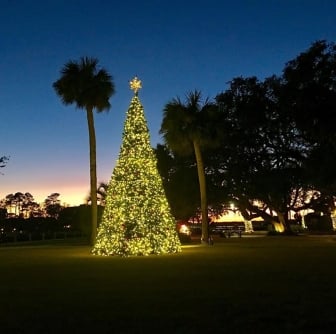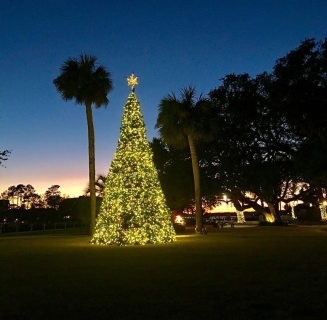 Walking in a Lowcountry Wonderland: Celebrate the Holidays on Hilton Head Island
What if you could leave all the planning behind this holiday season? Say goodbye to checklists, preparations, and online shopping, and instead, gather...