Itinerary: National Plan for Vacation Day
By Hilton Head Insider
We all know the importance of taking time away from work to escape the daily grind. Whether you're the type who likes to hit the links, bask on the beach, sample new flavors, or discover fascinating arts and culture, vacations offer essential time for you to make unforgettable memories and explore your interests. 
This is where National Plan for Vacation Day comes in. This annual holiday encourages all Americans to plan their time off right at the beginning of the year to ensure they take full advantage of their vacation time. Planning a vacation is also a great way to beat those post-holiday blues. In fact, according to the U.S. Travel Association, preparing for a trip "boosts morale, reduces stress, and prevents burnout." So go ahead and start planning your vacation to Hilton Head Island in 2023! In no time, you'll be ready to set that out-of-office message and embark on an unforgettable trip to the Lowcountry. Here's a suggested 5-day itinerary to get you started.
Day One: Let Our Experts Be Your Guides
You planned ahead and did your research, so you already know how many incredible things there are to see and do on Hilton Head Island. Why not dive right in with a guided tour from local experts? Whether your interests lie in exploring local history, discovering hidden gems, or getting out on the water, a guided tour is the perfect way to begin your Hilton Head Island vacation. Hop aboard a boat or explore on two wheels with a bike tour. Meet some local dolphins or learn about Hilton Head Island's Gullah heritage. Fascinating discoveries await. 
Once you've wrapped up your day of discovery, it's time for a meal. Try outdoor dining to take advantage of Hilton Head Island's lovely climate and spectacular views. The views are stunning at the Quarterdeck, a classic Hilton Head Island dining experience that puts you in the perfect location for spectacular sunsets and views of the Harbour Town Lighthouse. Fresh-from-the-water seafood and decadent desserts.
Day Two: Lowcountry Arts & Culture
On day two of your Lowcountry getaway, take some time to explore the endlessly fascinating arts and cultural scene. Start with the Art League of Hilton Head Gallery, where you can view and purchase work from more than 170 member artists. Featured artist receptions are free and open to the public, so be sure to check their event calendar to see if one coincides with your visit. Looking to create your own art? Sign up for one of 30 art classes and workshops at the Art League of Hilton Head Academy. Or bring the kids along to Art Cafe for a memorable paint-your-own pottery experience. In the afternoon, head to the Gullah Museum of Hilton Head Island to learn more about this vital community's fascinating history and culture. 
Your last evening on Hilton Head Island offers an excellent opportunity to enjoy a performance by some local talent. Head to The Jazz Corner to pair the sounds of skillful musicians with an elegant dining experience. Looking to dance the night away to live music? Check out The Rooftop Bar At Poseidon, Hilton Head Island's premier music venue. Cap off your Lowcountry vacation with the sounds of some of the area's best live bands.
Day Three: Bask Beachside
Your first two days have been a whirlwind! You've discovered Hilton Head Island's historical charm and experienced some of the world's best golf and seafood. Day three seems like the perfect opportunity to kick back and discover some of America's very best beaches. Hilton Head Island is home to more than 12 miles of sandy shores. South Beach, Folly Field Beach, Forest Beach, and Driessen Beach are just a few family-friendly beaches you can visit in the Lowcountry. Beaches are a huge reason Hilton Head Island is so beloved by visitors. Spend the day discovering these gems for yourself. 
Once you've had your fill of the sun, sand, and surf, carry the day's beach theme along to dinner at Skull Creek Boathouse. Home to (you guessed it!) fresh, mouthwatering seafood and breathtaking views, it's a perfect way to end a beach day.
Day Four: An Island of Outdoor Adventures
If you're the kind of traveler who can't wait to get up and get outside, Hilton Head Island is the perfect vacation destination for you. Bike, birdwatch, zipline, kayak, surf… the list goes on and on! Biking has long been one of the most popular outdoor activities on Hilton Head Island, and for good reason! Over 60 miles of leisure pathways combine with 12 miles of wide open beaches for many hours of potential routes. You can plan ahead with our interactive bike map and rent a bike at Hilton Head Bicycle Company, Vacation Comfort Rentals, and many other local partners. 
Are water sports more your speed? Then, you've come to the right place. The Lowcountry is home to fabulous aquatic adventures. Get your heart pumping with a jet ski rental from Sea Monkeys Watersports, or try your hand at kayaking, stand-up paddle boarding, or even boating. Sea Monkeys offers a wide range of rentals for whatever expedition you have in mind. 
After spending the day making a splash or exploring new trails, perhaps you'll be ready for a quiet night in with someone else taking care of the cooking. Signature Catering & Events by Serg offers luxury gourmet services so you can kick back, relax, and enjoy restaurant-quality cuisine without having to leave the comfort of your accommodations. 
Day Two: Rise, Shine & Tee Off
Now that you've got the lay of the Lowcountry, you're ready to get up early to experience a beautiful sunrise on Hilton Head Island. How about an early tee time to experience the best of Golf Island? With more than 23 championship golf courses in the Lowcountry area, you have plenty of options to choose from. Try out the Atlantic Dunes by Davis Love III at The Sea Pines Resort, which offers a complete reconstruction of Hilton Head Island's first course. Or, tee off at Harbour Town Golf Links for a classic Hilton Head Island golf experience. This course put the Lowcountry on the golf map and is the location of the annual RBC Heritage Presented by Boeing, South Carolina's only annual PGA TOUR event. 
Wrap up your perfect golf experience by enjoying the spirits of Hilton Head Distillery, Hilton Head Island's first and only distillery. Tours and tastings run until 5:00 p.m., so you will have plenty of time for a delectable Lowcountry dinner afterward. How does Hudson's Seafood House on the Docks sound? Hilton Head Island's oldest and most famous restaurant, Bon Appetit recently named it a top pick for fried seafood. Discover for yourself what makes this scenic eatery a favorite for locals and visitors alike.
Start Planning Your Next Lowcountry Getaway
Wow, what a fantastic five days on Hilton Head Island! You discovered local arts and culture, basked on beautiful beaches, hit the water for aquatic adventures, and played some of the world's best golf courses. And the amazing part is you've barely scratched the surface! You'll return home eager to come back to America's Favorite Island® for your next vacation.
Check out our free Vacation Planner to begin planning your next Lowcountry getaway. We hope to see you soon.
More Trending Stories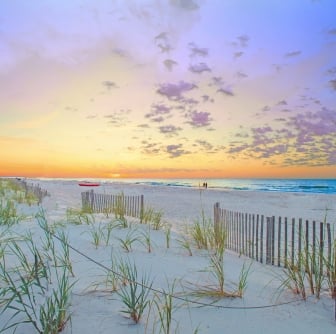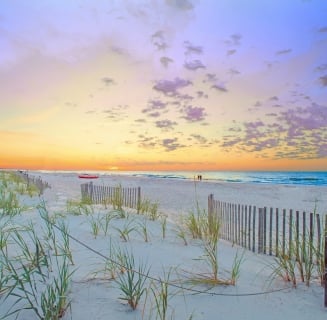 7 Reasons Why Hilton Head Island Should Be on Your Bucket List
From our stunning natural beauty, green culture, and wildlife protection initiatives to our Lowcountry lifestyle and warm Southern hospitality: There...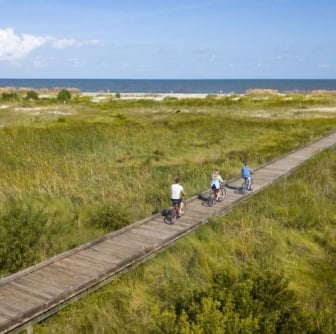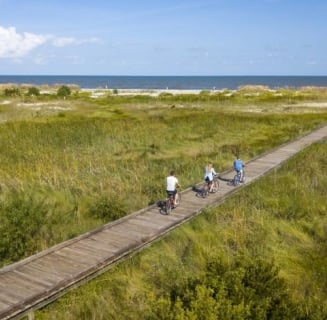 How to Spend 48 Hours on Hilton Head Island
Hilton Head Island offers a unique and relaxing vacation experience unlike anywhere else—and everyone, at some point, should make their way to America...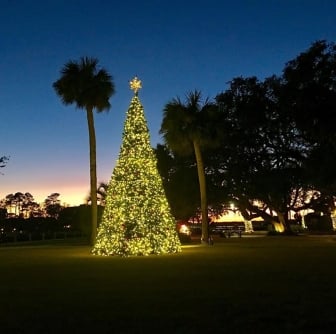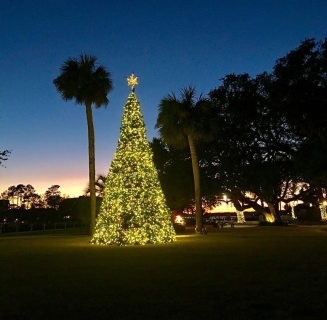 Walking in a Lowcountry Wonderland: Celebrate the Holidays on Hilton Head Island
What if you could leave all the planning behind this holiday season? Say goodbye to checklists, preparations, and online shopping, and instead, gather...