Guide to biking and dining on hilton head island
By Hilton Head Insider
Historic plantations, top-rated restaurants, and world-renowned beaches—all surrounded by the ocean and connected by miles of stunning trails. Just the mention of Hilton Head Island conjures up images of Lowcountry boils, miles of rolling shoreline, and a dense canopy of fragrant pines. Really though, there's only two things you need to know about Hilton Head Island: You can get nearly anywhere here by bike, and that we love to eat.
Etched by more than 100 miles of pathways, six miles of bike lanes, and 12 miles of packed beach trails, you can explore Hilton Head Island's lush landscape easily and endlessly by bike. But don't just take our word for it: the Island is an American League of Bicyclists Gold Level Bicycle Friendly Community.
Hilton Head Island is a fantastic destination for seasoned cyclists. Join a local biking club for one of their weekly group rides. Learn about Hilton Head Island's history of Native Americans, The Civil War, and more, on a tour offered by the Heritage Library Foundation. Burn rubber—and feel good doing it—knowing you're contributing to the Island's eco-tourism and conservation efforts.
Not so nimble on the bike seat? No worries, Hilton Head Island's diverse terrain doesn't discriminate—you don't even have to own a bike! There are 30 bicycle rental shops with 15,000 bikes for rent, all waiting for adventure. And, procuring your rental is just as convenient as touring around on it. Most rental companies will drop off your wheels at your accommodation and pick them up there, too – it couldn't be easier to explore the Lowcountry than by bike.
We don't know about you, but we generally plan our sightseeing around meals, so once you grab your wheels, why not set out on a taste and see tour of Hilton Head Island? With a two-to-one ratio of restaurants to bike paths, you won't have to pedal far when hunger strikes. Depending on your travel style, you can choose to let the Island's natural beauty direct your journey, or open up our Bike Path Brochure and plan the parks, beaches, and eateries you want to explore. 
CENTRAL
Most of Hilton Head Island's restaurants start mid-island at Mathews Drive, and increase in number and variety as you head "on-island." Whether you're grabbing a quick bite at a café as you head towards the Island's south side, settling in for a charming evening of live entertainment, or looking for some Southern cuisine after a sunset ride, a trip down William Hilton Parkway is sure to better acquaint you with the Island's culinary heart.
SOUTH
At the end of this main cycling artery, Sea Pines Circle offers dozens of restaurants handily clustered along several bike paths. Be transported to Europe with a selection of menus that range from classic French fare to authentic Italian eats.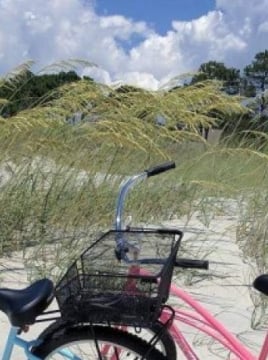 EAST
A journey east towards Coligny Beach provides both upscale and casual spots serving up fresh seafood and regional delights. Cafés, diners, delis, gastropubs, and eclectic eateries all color the landscape of this seaside park area.
WEST
Moving west towards Palmetto Bay Marina, you have your choice of a nice variety of offerings to keep all members of the family happy. Try breakfast at a café overlooking the marina or soak up the local hospitality with some Lowcountry cuisine.
NORTH
As you head North towards Hilton Head Plantation, keep your appetite up. In this more "local" part of the Island, Coastal pubs and restaurants offer sublime seafood lunch specials and stunning dockside views.
Of course, with a handy basket at the helm of your bike, restaurants aren't your only option for dining. Park yourself in the sand with a bucket of peel-and-eat shrimp for an authentic al fresco experience. Pack a picnic to enjoy on the lawn at any of the two dozen town parks. Or, plan your day around one of the area's many culinary events.
The world is your oyster (or shrimp, or crab…) when you're exploring Hilton Head Island by bike. Dive into more Island inspiration with Lowcountry Life and start planning your Island getaway today.
More Trending Stories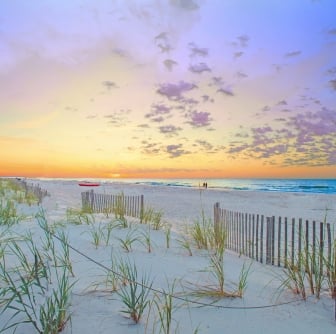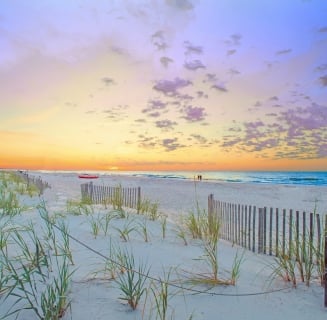 7 Reasons Why Hilton Head Island Should Be on Your Bucket List
From our stunning natural beauty, green culture, and wildlife protection initiatives to our Lowcountry lifestyle and warm Southern hospitality: There...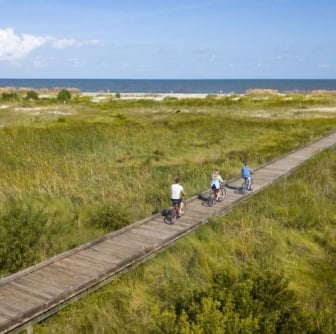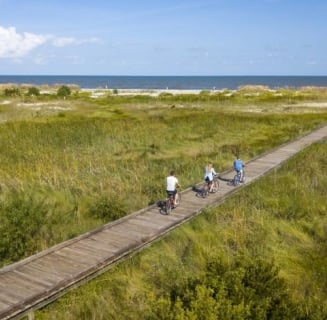 How to Spend 48 Hours on Hilton Head Island
Hilton Head Island offers a unique and relaxing vacation experience unlike anywhere else—and everyone, at some point, should make their way to America...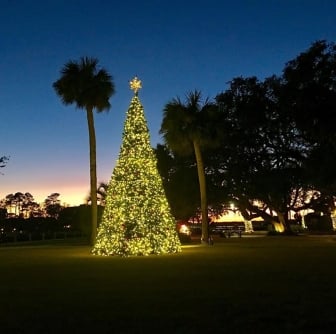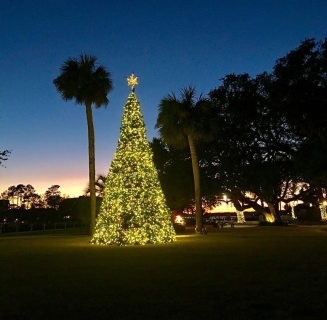 Walking in a Lowcountry Wonderland: Celebrate the Holidays on Hilton Head Island
What if you could leave all the planning behind this holiday season? Say goodbye to checklists, preparations, and online shopping, and instead, gather...