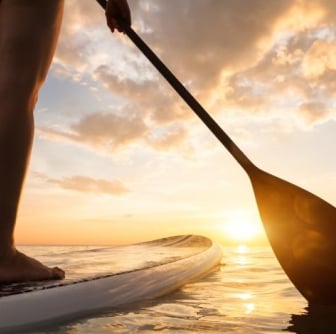 Paddle boarding hilton head style
By Ariana Pernice
So the newest craze on Hilton Head Island is paddle boarding.  Seems like everyone is doing it now…or at least everyone knows about it.  Called the sport of, "Hawaiian Kings," it is essentially paddling on a surfboard (slightly fatter and heavier), bringing together the joy of being out on the water and gliding on its surface, almost like "walking on water," and the discipline of paddling, akin to kayaking, but standing up.
I have been paddle boarding and paddle surfing for three summers now and I love it.  On Hilton Head Island, paddle boarding means getting out on our coastal ecosystem of creeks and estuaries. Once you get the hang of it (doesn't take long to do) you just can't beat being on the water on a paddle board for great exercise and a great tour of the Lowcountry's marine environment. Personally, I really enjoy standing up on a board, and having a higher visual perspective over the marsh landscape.  In addition to the verdant greens and golden colors of the marsh, plus the pale Carolina blue skies and silvery grey East Coast waters that surround you, paddlers around the Island will also enjoy glimpses of snowy egrets, blue herons, pelicans, dolphin, otters and schools of fish.
Paddling in the early morning or late evening is a wonderful way to begin or end your day in the summer. Cooler temperatures and mild wind across the water are helpful. The core fitness workout is deceivingly good (you don't feel it as you are paddling, but when you arrive home you will know that you have gotten some good exercise,) plus it simply is a peaceful, "natural" excursion.
Paddle surfing, as opposed to paddle boarding, is more challenging than flat water paddling.  Paddle surfing, also called, "stand up," or "SUP" combines the art of surfing waves whilst paddling along. It means actually getting out onto the beach, into the surf and into the oncoming waves of the ocean.
Hilton Head Island, typical of the East Coast, doesn't have swells like the Pacific, but, if you've never surfed, you would be surprised how powerful and strong a 3-4 foot waves can be. The sport is a ton of fun, but if you are a novice, I suggest getting instruction before venturing out – the combination of a big, heavy board, a paddle, and oncoming wanes can be tricky if you aren't prepared.
There are several boat landings for paddle boarding access if you bring your own equipment to the Island.  Or, there are numerous outdoor adventure companies that now provide rental boards, instruction and guided tours.
Hopefully while on the Island you will get your nerve up and try paddle boarding, or even better, if you are more daring, paddle surfing.  I think you will have a lot of fun experiencing something new and the pleasure of Hilton Head Island's marine environment.  Why not, you are on an Island!
More Trending Stories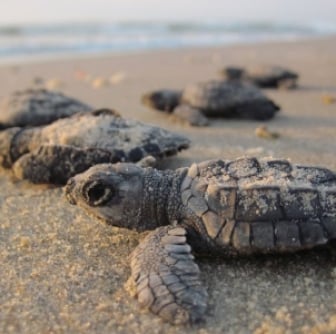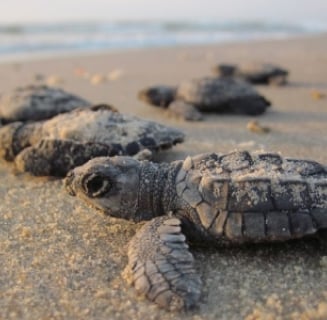 5 Fascinating Facts About Sea Turtles on Hilton Head Island
With its sun-kissed beaches, vibrant coastal landscapes, and a commitment to conservation, Hilton Head Island is a paradise teeming with extraordinary...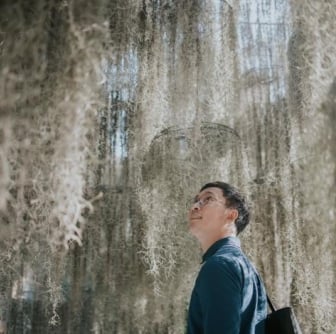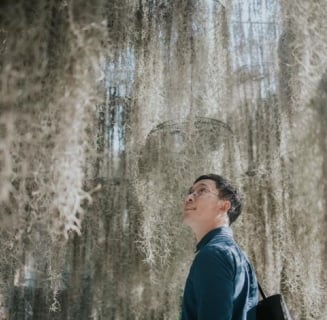 Staying Mindful of Our Impact: Sustainable Practices on Hilton Head Island
Did you know Hilton Head Island was America's first eco-planned community? That our commitment to developing tree cover has been continuously...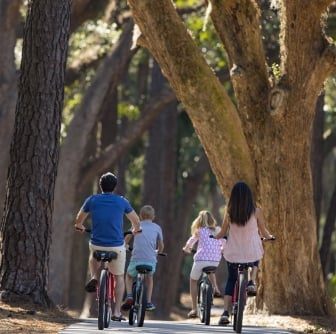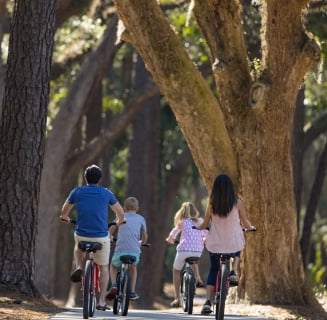 Hilton Head Island Recognized as One of the 'Best Bicycling Communities' in the United States!
Hilton Head Island has been recognized as one of the top 25 bicycle-friendly communities in the United States and one of 39 to achieve "Gold-Level"...