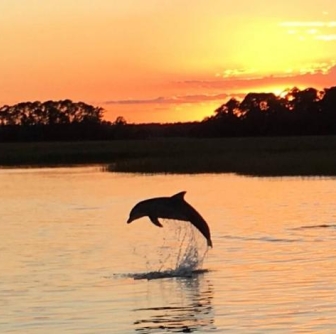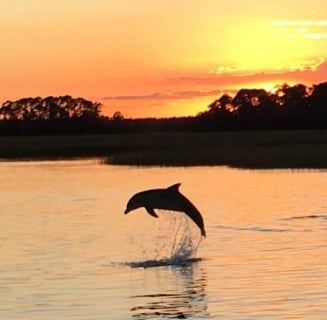 Everything You Need To Know About Hilton Head Island Dolphins
By Hilton Head Insider
When visiting Hilton Head Island, it's not hard to spot the Atlantic bottlenose dolphins in their natural habitat. We know that getting up close and personal with these playful creatures is on nearly everyone's bucket list, so read on to find out how to stop dreaming, and start planning!
THE BOTTLENOSE DOLPHIN: A HISTORY
Bottlenose dolphins are the most common members of the oceanic dolphin family. Their curved mouths give the appearance of a friendly, permanent smile, and, when you see one in the wild, you can't help but smile back.
The name "bottlenose" comes from the elongated upper and lower jaw that forms a type of snout. They weigh in at an average of 660 pounds and can grow to be 13 feet in length. Fossils indicate that the bottlenose made its first appearance during the Miocene epoch, which extends between 23 to 5 million years ago.
According to National Geographic, these sleek swimmers can reach speeds of over 18 miles per hour and can make up to 1,000 clicking noises per second. The clicking sounds are a form of echolocation, aiding the dolphins in their search for food. The sounds travel until they hit an object, then bounce back, giving them a sense of the location, size, and shape of the target.
THE LIFE OF A BOTTLENOSE DOLPHIN
A mother bottlenose carries her calf for a full year. Mothers give birth in the water, and the calf instinctively knows how to swim, however, they depend on their mother's milk to survive for the next two years. 
The bottlenose can live to be 40 years of age, but their average lifespan is 15 – 16 years. Nellie, the longest-living Atlantic bottlenose dolphin in human care, died at age 61 on April 30, 2014. Social by nature, you can find them traveling in pods ranging in size from fifteen to over a hundred, depending on their habitat.
The bottlenose dolphin has the second-largest relative brain size of any mammal on Earth (humans have the largest), and a study conducted by the University of Chicago showed that they can remember the whistles of other dolphins they'd lived with after 20 years of separation.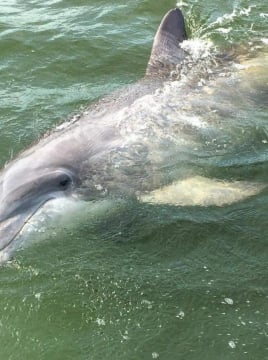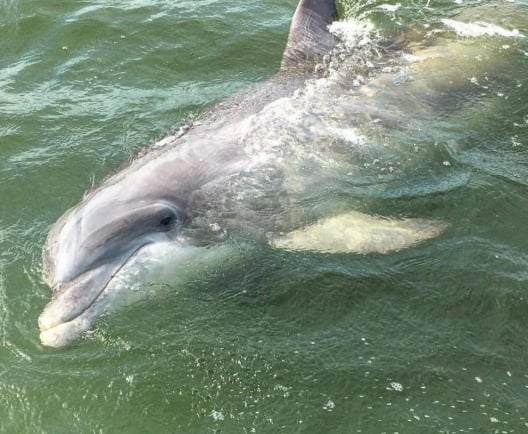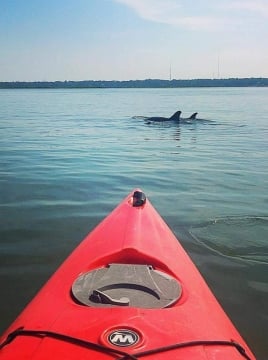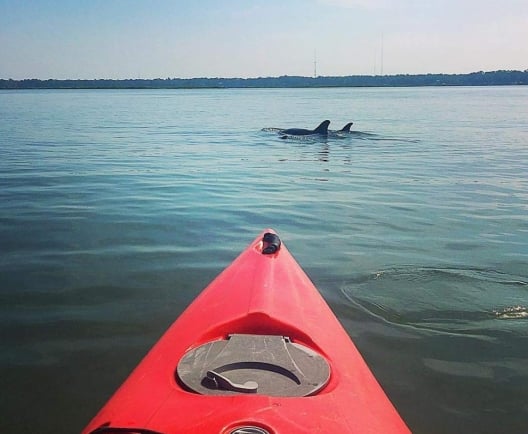 WHERE TO FIND DOLPHINS ON HILTON HEAD ISLAND
While most groups migrate seasonally, Lowcountry dolphins enjoy our mild water temperatures year-round, which means anytime is a great time for a dolphin-spotting adventure!
Hilton Head Island was built for boating—take a nature and dolphin cruise with Outside Hilton Head to see wild Atlantic Bottlenose Dolphins in their natural habitat. As you sail along, you're also likely to see ospreys, egrets, pelicans, bald eagles, minks, otters, and other friendly faces along the way. If you want to get up close and personal, we recommend booking a kayak excursion during the month of June when rapidly warming waters bring dolphins closer to shore to hunt.
More of a land lover? Lucky for you, you can often spot dolphins cavorting close to shore. And, if you'd like to go wildlife watching from the comfort of your own room, several oceanfront hotels and homes and villas on the Island—including Hilton Head Plantation, Port Royal Plantation, Palmetto Dunes and Forest Beach—are excellent places for dolphin watching.
After reading about Hilton Head Island's most magnificent mammal, you're probably itching to see one for yourself. Your first step is to browse our vacation offers and start planning your visit to Hilton Head Island. Then, you can explore all the ways to make a splash with our available water sports and activities while you're here. Finally, don't forget to share your dolphin photos with us using #LowcountryLife on Instagram!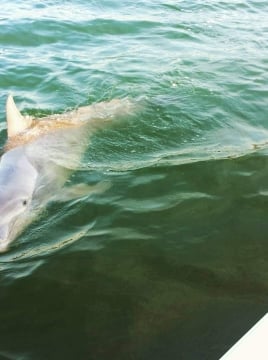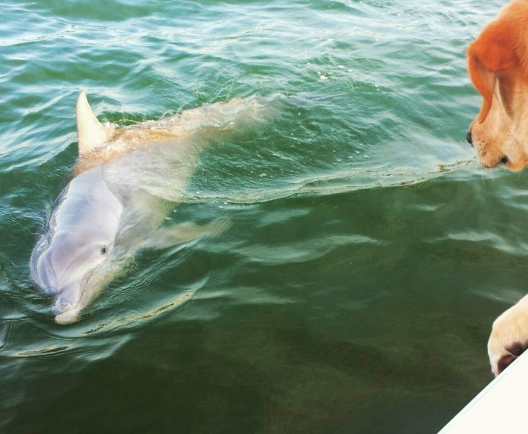 More Trending Stories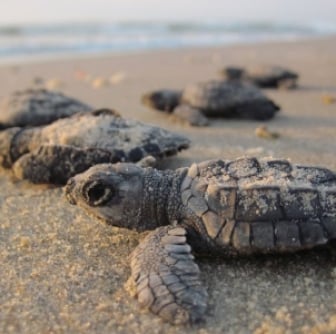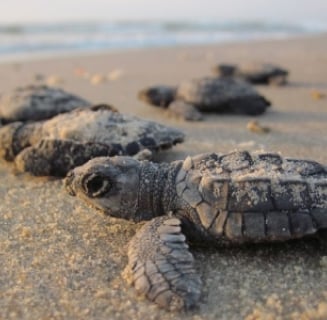 5 Fascinating Facts About Sea Turtles on Hilton Head Island
With its sun-kissed beaches, vibrant coastal landscapes, and a commitment to conservation, Hilton Head Island is a paradise teeming with extraordinary...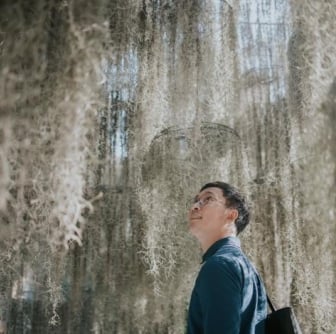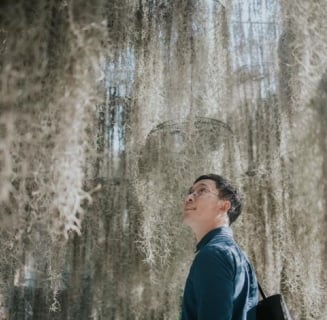 Staying Mindful of Our Impact: Sustainable Practices on Hilton Head Island
Did you know Hilton Head Island was America's first eco-planned community? That our commitment to developing tree cover has been continuously...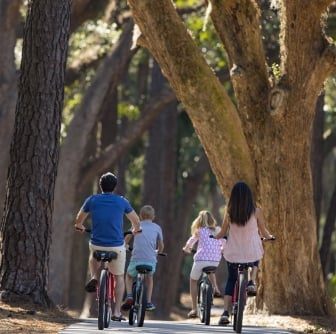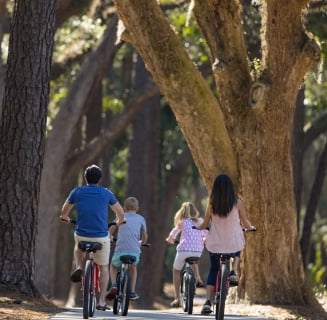 Hilton Head Island Recognized as One of the 'Best Bicycling Communities' in the United States!
Hilton Head Island has been recognized as one of the top 25 bicycle-friendly communities in the United States and one of 39 to achieve "Gold-Level"...