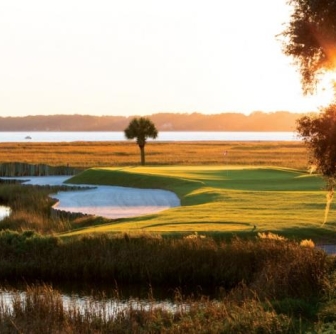 Splurge on Hilton Head Island's Most Storied Courses
By Hilton Head Insider
During the past half-century, Hilton Head Island has emerged as one of America's premier resort meccas in large part due to its three anchor resorts: The Sea Pines Resort, Palmetto Dunes Oceanfront Resort and Port Royal Resort.
In late 1960, Hilton Head Island's first golf debuted in The Sea Pines Resort. Yet the most important step in the evolution of Hilton Head Island golf was taken in 1969, when Sea Pines developer Charles Fraser summoned an imaginative up-and-coming architect named Pete Dye to build the dynamic Harbour Town Golf Links. Dye and his young protégé, Jack Nicklaus, who was approaching his zenith as the world's greatest golfer, seized upon ideas from courses of Scotland, England and Ireland — characteristics such as railroad ties and waste bunkers.
Dye and Nicklaus emphasized quality over quantity, going against the grain by building narrow fairways and tiny, postage-stamp-sized greens. Once the golf course was completed, Fraser was able to bring a new PGA Tour event to Hilton Head Island called the Heritage of Golf — and the island's reputation as a golf resort was up and running.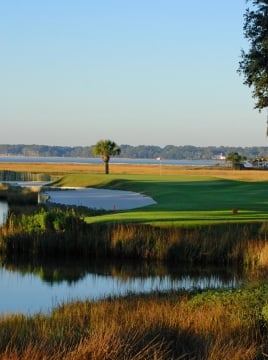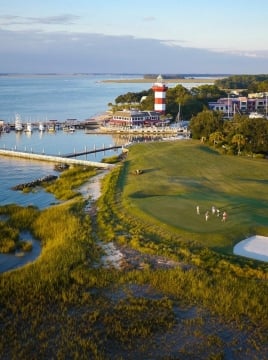 Today, Harbour Town remains a lasting monument to southern coastal golf and a bucket-list golf course for any aficionado. Every hole at Harbour Town has its own unique flavor and the finishing trio is among the most breathtakingly challenging anywhere. The home hole with its view of the candy-cane lighthouse is the most famous, but the 185-yard, par-3 17th, which overlooks Calibogue Sound and across to neighboring Daufuskie Island, conjures up the perfect Lowcountry ambience.
The Sea Pines Resort has recently unveiled the Pete Dye Room at the Harbour Town Clubhouse, celebrating the life and times of the of one of history's all-time best designers.
Meanwhile, Sea Pines Resort's new Atlantic Dunes by Davis Love III was recently named "National Course of the Year" by the golf course owners association. It is a complete reconstruction of The Sea Pines Resort's historic Ocean Course. Featuring a pronounced seaside ambience and Lowcountry feel accented by coquina shells and seaside grass, Atlantic Dunes incorporates elements of the surrounding beachfront along with the area's bounty of native pines and oaks lining the fairways. As a five-time Heritage champion and favorite son of the coastal south, Love was the ideal choice to modernize the Hilton Head's inaugural course.
Not to be outdone, the Sea Pines Resort's original Sea Marsh Golf Course received a stunning, multimillion-dollar transformation in 2007 and is now called Heron Point by Pete Dye. Indeed, Dye's imagination and creative flair are on display at every turn on Heron Point. The original course's fairways were dramatically reshaped, with the resulting mounds and hillocks keeping players on their toes with dramatic angles and shifting elevations. The movement is even more distinctive around Heron Point's fun green complexes.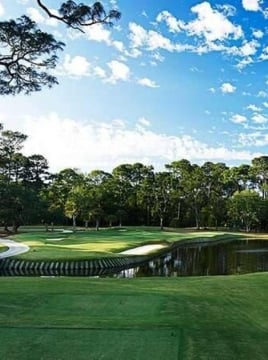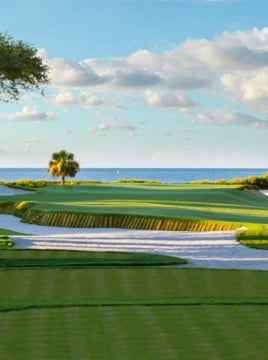 Anchoring Hilton Head mid-island and bounded by three miles of Atlantic Ocean beach on one side and a sheltered Intracoastal Waterway marina on the other, Palmetto Dunes Oceanfront Resort offers a storied history of unparalleled golf experiences for guests from all corners of the globe.
The trio of golf courses at Palmetto Dunes has each been honored with South Carolina's "Golf Course of the Year" award in the past 15 years. First was the Robert Trent Jones Course following an extensive renovation that involved reshaping and restructuring tees, greens and bunkers. Workers also elevated and reshaped the fairways, and improved natural drainage with the addition of the unique, 11-mile lagoon system that weaves its way through and around all three golf courses. Adding a set of junior or "short course" tees to the Jones Oceanfront Course's layout enabled the resort to launch the Palmetto Dunes Junior Golf Academy and underscored the resort's commitment to the next generation of golfers.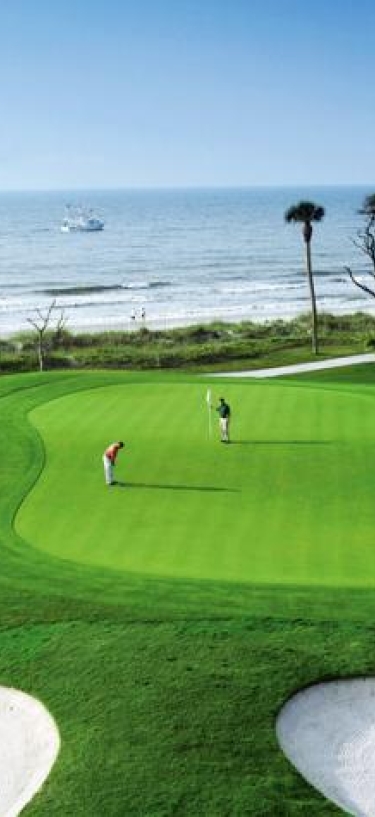 The Arthur Hills Course at Palmetto Dunes received its Course of the Year honor a decade ago. Taking full advantage of the area's natural ambience, this spectacular layout represents a careful blend of beauty and challenge. Stands of palmetto trees line the graceful fairways. Built on a series of rolling dunes, the Arthur Hills Course presents many opportunities for off-balance lies, while ocean breezes add to the challenge.
The most recent Course of the Year from Palmetto Dunes is the George Fazio Course, which received the award in 2014 — exactly 40 years from when the layout was debuted. Hilton Head Island's only par-70 course, as well as one of its most challenging, the Fazio layout demands a combination of long play and precise golf shots.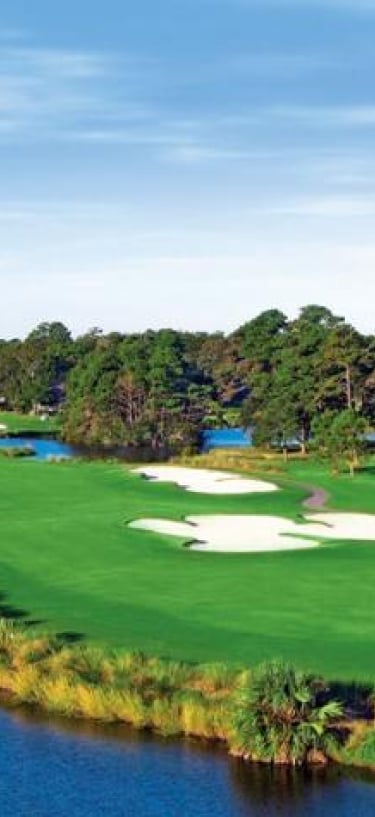 On Hilton Head Island's northwestern point is Port Royal Resort — home to the original landing site of William Hilton, the explorer for whom the island is named.
Within reach of approximately 12 miles of beach where Port Royal Sound joins the Atlantic Ocean, Port Royal offers a trio of distinctly different 18-hole golf courses. Robbers Row, Barony, and Planter's Row were designed by Pete Dye, George Cobb and Willard Byrd, respectively.
Robber's Row was originally designed in 1967 by Cobb and Byrd, and redesigned in 1994 by Dye. Located on the scenic marsh side of the Port Royal Plantation atop former Civil War grounds and featuring historical markers throughout, the layout winds through beautiful strands of magnolia and live oaks. 
The Barony Course opened in 1963 and was one of Hilton Head Island's first courses. From the tee box, many of the holes appear to be relatively open, but as you approach the recently resurfaced Bermuda greens, the challenge becomes clear. 
Port Royal's youngest course is Planter's Row, which Byrd designed in 1983. Offering a different feel from its sister courses, with water on 10 of the 18 holes, Planter's Row is a great challenge due to its narrow, tree-lined fairways and small, undulating greens.
Like Sea Pines and Palmetto Dunes, Port Royal is also renowned for its world-class tennis center and other outstanding amenities.
More Trending Stories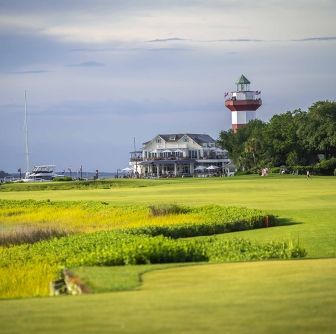 Hilton Head, America's Golf Island: Local Golf Travel Professionals Make Planning Your Dream Golf Getaway Easy
A Dream golf getaway. That's right. It's what Hilton Head, America's Golf Island, is all about. Sounds perfect in theory, of course. In practice, it's...
Hilton Head, America's Golf Island: Local Golf Travel Professionals Make Planning Your Dream Golf Getaway Easy
A Dream golf getaway. That's right. It's what Hilton Head, America's Golf Island, is all about. Sounds perfect in theory, of course. In practice, it's...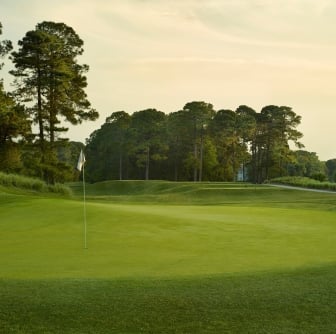 Discover These Hidden Gems Around Hilton Head, America's Golf Island
The names of several courses on and around Hilton Head, America's Golf Island roll off the tongues of diehard golfers everywhere. Harbour Town Golf...