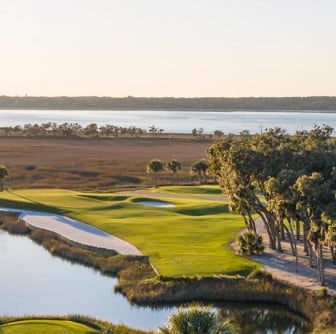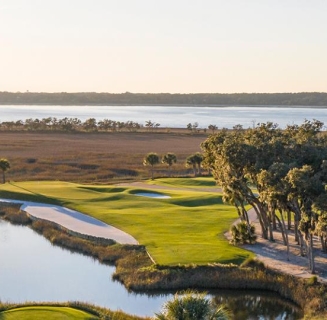 One shot wonders: hilton head golf island's top par 3s
By Shane Sharp
Our expert golf vacation planners are available to help you design your ideal Hilton Head Golf Island golf trip. Click here to complete a brief form and to receive a custom quote.
They are the site of more holes-in-one, group photos, and overall memorable moments than just about any type of golf hole. Yet they're diminutive in size, typically ranging from around 100 yards to just over 200 yards in length. We're talking about par 3s. In this two-part series, we're tipping our caps to Golf Island's Top 10 One-Shot Wonders. Take dead aim at the pin, and here we go …
No. 17, Harbour Town Golf Links, The Sea Pines Resort
The penultimate hole at Pete Dye and Nicklaus' Lowcountry piece de resistance serves at the gateway to the Calibogue Sound. For 16 holes and nearly 6,500 yards, Harbour Town Golf Links deftly weaves its way through the live oaks and loblolly pines of Hilton Head Island's south end. But the 185-yard, par-3 17th hole is where it all changes. A 90-yard bunker borders the hole's left side, calling for a miss right. But the deep greenside bunkers on its starboard side are even more dastardly. A narrow green is easily missed left or right, but a shot through the green will usually lead to the biggest number on the scorecard.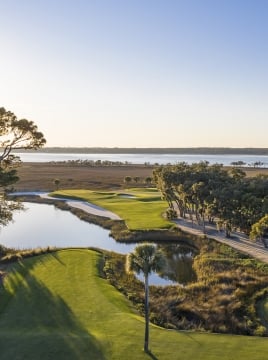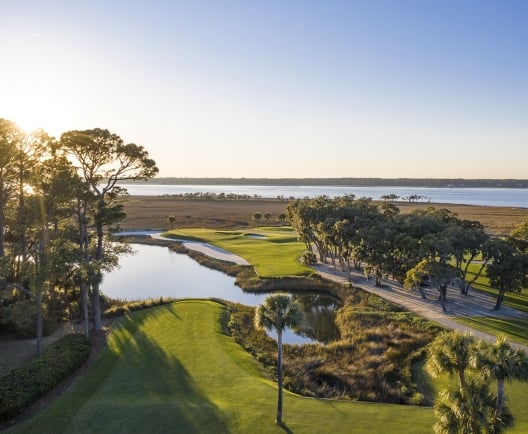 No. 6, Oyster Reef Golf Club
Given their length, par 3s tend to fit perfectly into hard to get to spots along hillsides, mountains and shorelines. And that's exactly what famed golf course architect Rees Jones did at Oyster Reef Golf Club with the par-3 6th hole. This redoubtable one-shotter plays to 192 yards from the tips, calling for a long iron or hybrid off the tee to a green set against the backdrop of Port Royal Sound. The shallow putting surface slopes to the right and is protected by a deep bunker in front. The 6th also doubles as Oyster Reefs "signature hole" and has appeared in more social media posts than any other hole on the course.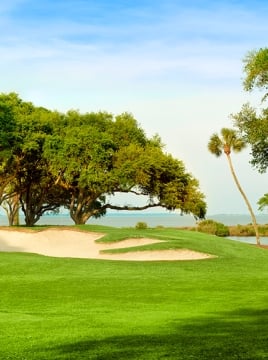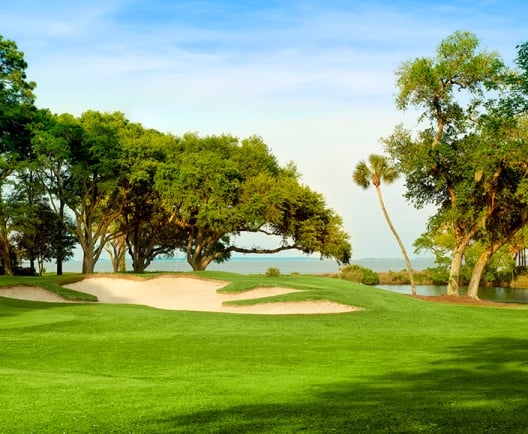 No. 15, Atlantic Dunes by Davis Love III, The Sea Pines Resort
Davis Love III is one of the greatest ball strikers in PGA TOUR history. Leave it to "DLIII" to craft one of Golf Island's best new par 3s. Love Golf Design completely revamped the former Ocean Course at The Sea Pines Resort in 2016 and it was recast and rebranded as Atlantic Dunes. Coastal sands, coquina shells, rolling turf dune lines, and wispy native grasses form its aesthetics. These elements are fully displayed on the par-3 15th, which also features a jaw-dropping view of the namesake Atlantic Ocean. A traditionalist at heart, Love and architect Scot Sherman designed the 15th with an open green front so players can flight their tee shots under the wind and use the ground on the approach.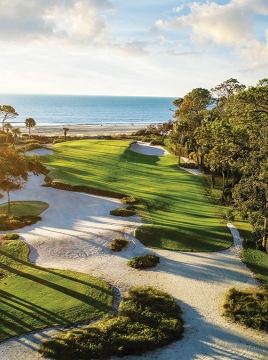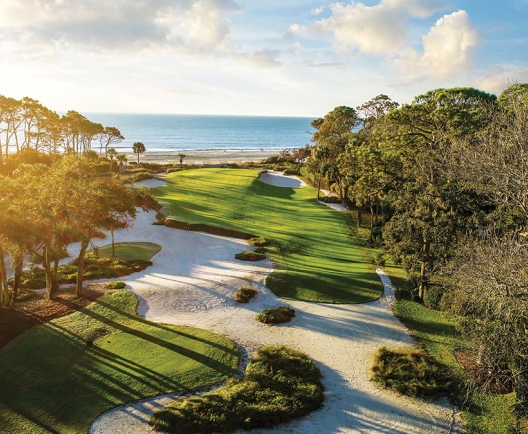 No. 17, Old South Golf Links
Old South Golf Links was designed by Hilton Head Island-based architect Clyde Johnston, who cut his teeth with Willard Byrd and is perhaps best known for his volume of work in and around Myrtle Beach. Old South is Johnston's Golf Island calling card, and the setting along MacKay Creek only reinforces just how good this oft-overlooked layout really is. The par-3 17th hole measures a respectable 180 yards from the cranks. And when the hole is cut on the narrow back of this green, long-iron shot-making is at a premium. Don't let the No. 16 handicap rating fool you; the carry over water brings bogey or worse into play on No. 17.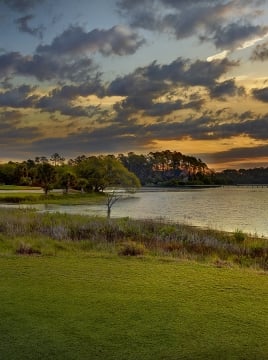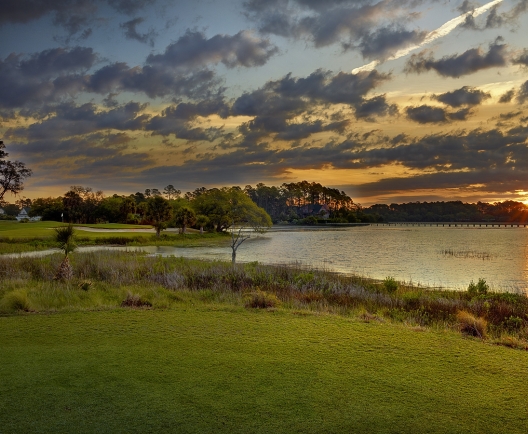 No. 15, Arthur Hills Course, Palmetto Dunes Oceanfront Resort
Arthur Hills was once dubbed the "Mayor of Naples" due to the sheer number of courses he designed along Florida's Paradise Coast. His work at Palmetto Dunes is widely considered one of his seminal "works of Art," with its beguiling layout meandering through a network of lagoons, coastal grasses, live oaks and palmettos. The island's oldest lighthouse, the Hilton Head Rear Range Lighthouse, stands just beyond the green on the par-3 15th hole. The monolithic structure was built between 1879 and 1880 as part of a larger system of navigation lights guiding ships into Port Royal Sound. As for strategy, No. 15 is a straightforward, mid-length one-shotter that should wind up as a par or better on the scorecard.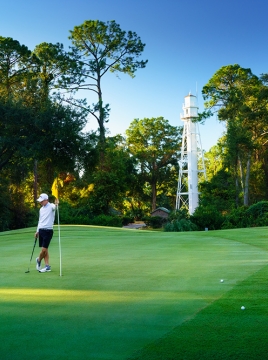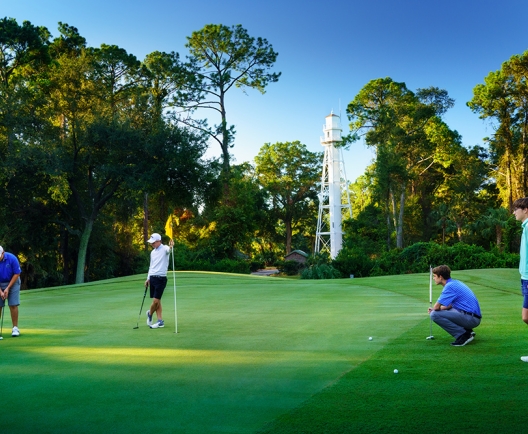 More Trending Stories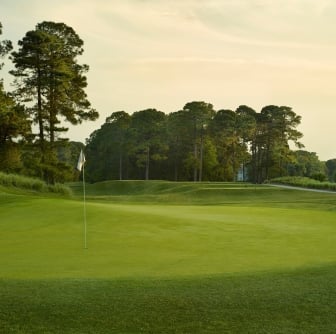 Discover These Hidden Gems Around Hilton Head, America's Golf Island
The names of several courses on and around Hilton Head, America's Golf Island roll off the tongues of diehard golfers everywhere. Harbour Town Golf...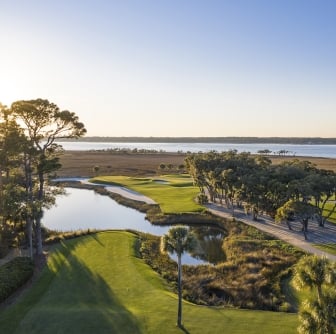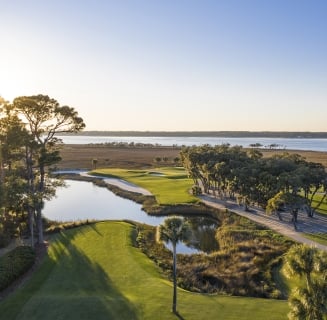 Rees Jones
Pete Dye's iconic Harbour Town Golf Links and its famous lighthouse will always be the face of Hilton Head Island golf. But it can be argued that...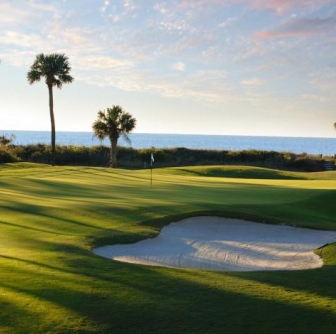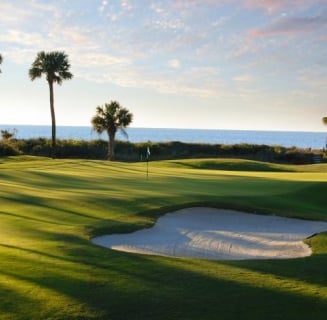 What You Won't See at the RBC Heritage - Unless You Go!
The crew from the Golf Channel and CBS love coming to Hilton Head for the RBC Heritage, especially after the crucible of Augusta National the week...