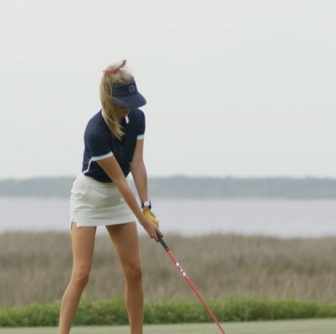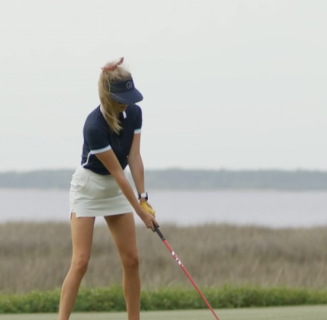 Golfing on Hilton Head Island Q&A with Alexandra O'Laughlin
By Hilton Head Insider
Golf Channel Correspondent and Content Creator Alexandra O'Laughlin chose the perfect time to experience Hilton Head Island — during the 53rd RBC Heritage Presented by Boeing. From playing in the Pro-AM to seafood feasts to exploring the island in style, here's what O'Laughlin had to say about her Hilton Head Island golf getaway. 
Tell us about your RBC Heritage Presented by Boeing experience! Were there any highlights or standout moments either while observing the tournament or when you played in the Pro-AM?
Playing the RBC Heritage Presented by Boeing tournament course alongside the best players in the world was such an incredible experience! My personal highlight moment was hitting a crazy shot from the trees, over more trees, and landing it right next to the pin! I loved having the fans cheer our group on throughout the day. A walk down Harbour Town Golf Link's iconic 18th hole with the Lighthouse in the background was the perfect ending to a surreal day on the course. 
Do you have any tips or advice for first-time Heritage goers?
During tournament week, staying in a house on the course makes you feel a part of the event! It was so fun to see people sitting out back cheering the players on and experiencing the tournament with friends and family. This is a great accommodation choice if you're coming with your family or a larger group. I stayed at The Inn and Club at Harbour Town which sits on the first hole. Not only was it a quick walk to the course but I could sit outside, have a cocktail, and watch the golf in style! 
Have you ever visited Hilton Head Island before? How would you describe the destination to a first-time visitor? 
This was my first trip to Hilton Head Island and I would describe it as extremely multi-faceted! I was blown away by the variety of activities there are! Everything is very close and easy to get to. You can be as busy as you want to be or just relax on the beach, just depends on the kind of vacation you want to have. 
Can you describe the Harbour Town Golf Links to someone who has never played there before?
This was my first time playing Harbour Town Golf Links and it was a true test of my game...especially under tournament conditions. It demanded accurate, thoughtful shots off the tee in order to hit the green and a picturesque look with every step. I really enjoy courses like this because you need to work the hole green to tee in order to choose the correct club and target. It's one of those tracks you want to play over and over again because you learn so much each time you play it. It was so fun! 
What would you recommend that non-golfers seek out on a visit to Hilton Head Island? What were some of your favorite meals or experiences off the course?
I'll have to start with THE FOOD! I kicked off my trip at Ocean Lounge at The Sea Pines Resort and it was the perfect way to check out the beach, have fresh seafood and yummy cocktails (not to mention their extremely extensive bourbon list), and listen to live music while the sun was setting. There's a lot of activities to build up an appetite (biking, shopping, the beach, boating, tennis, golf...) so I loved how delicious and fresh the food was everywhere I went. 
Is there anything you'd like to do on a subsequent visit to Hilton Head Island that you didn't get to do this time?
Biking is such a big thing on Hilton Head Island! I loved seeing families enjoying the sunshine and exploring on their bikes. Absolutely will have to try this out next time as well as spend some more time on the beach! The sand was perfect and very clean. I can't wait to go back! 
Thanks for sharing your Hilton Head Island experience with us, Alexandra! We look forward to welcoming you to Hilton Head Island again.
More Trending Stories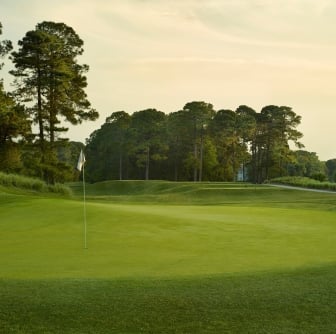 Discover These Hidden Gems Around Hilton Head, America's Golf Island
The names of several courses on and around Hilton Head, America's Golf Island roll off the tongues of diehard golfers everywhere. Harbour Town Golf...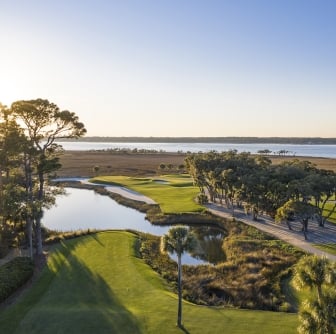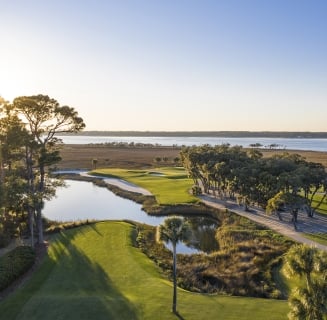 Rees Jones
Pete Dye's iconic Harbour Town Golf Links and its famous lighthouse will always be the face of Hilton Head Island golf. But it can be argued that...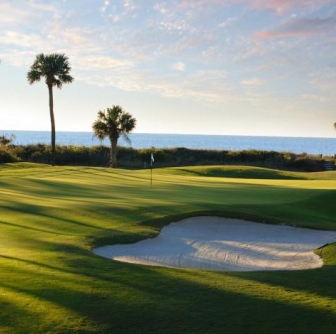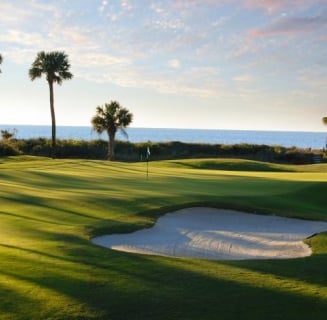 What You Won't See at the RBC Heritage - Unless You Go!
The crew from the Golf Channel and CBS love coming to Hilton Head for the RBC Heritage, especially after the crucible of Augusta National the week...