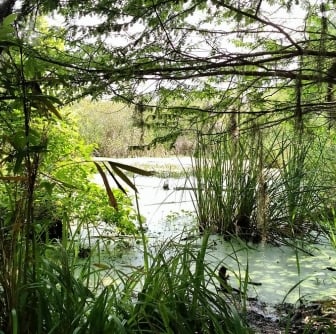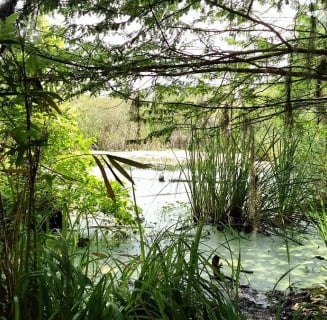 Sallie ann robinson's "daufuskie way" is fresh on the menu
By Hilton Head Insider
As people who love to cook, we have a lot to inspire us these days: local farm stand and market ingredients, enthusiastic chefs eager to share their knowledge (and their recipes!), the media (TV, blogs, magazines) brimming with information for the bon vivant in all of us and – in my opinion – the places we've been and the people we've shared those spaces with throughout our lives. It's the story that rings true for many a Southern cook – upbringing plays the essential role in their attitude toward food and the inspiration in their recipes. For local Daufuskie Island cookbook author Sallie Ann Robinson this is especially true. Sallie Ann acquired her cooking skills and love of freshness and seasonality growing up on the isolated and hauntingly beautiful sea island where such things were part of her everyday life.
I had the pleasure of speaking with Sallie Ann recently. With an expressive voice and friendly laugh, Sallie Ann reminisced about her childhood growing up on an island which is accessible only by boat and where everyone traditionally ate what they grew in the soil, caught in the river, and hunted in the woods. Living on Daufuskie was a hard way of life, but according to Sallie Ann, she never realized this because she and her family never knew any different. "Even though we had so little, we were happy. We did not have any stress; we were always learning – planting and tending the garden and enjoying the reward of the harvest – it teaches you appreciation," Sallie tells me.
Sallie Ann Robinson, author of Gullah Home Cooking the Daufuskie Way and Cooking the Gullah Way, Morning, Noon and Night
Sallie Ann added, "I am so proud to be a Daufuskie native. I can't get it out of my head. Daufuskie is a breath of fresh air that never leaves me." Sallie's family used a wood-fired stove for all the cooking and didn't have measuring spoons or cups. Instead they used leftover tin cans, and more importantly, the eye and hand of an experienced home cook. This was no problem for her (doesn't everyone know what a 'pinch' of something is? she thought), but an inconvenience when publishing a cookbook for the masses. While living on the island presented many challenges, it also made way for unique opportunities to learn life lessons as well as the 'cooking lessons' at the apron strings of her beloved Mother and 'Grandmomma'. Sallie Ann told me she was given the gift of being "raised right" (as my Mama would say): valuing even the simplest things in life, sharing the garden or sea's bounty with friends and neighbors, keeping a fastidious kitchen and taking time to appreciate the natural beauty surrounding us. Sallie Ann's words remind me of the reward to be found in hard work, "Preparing the soil, planting, tending, and harvesting the crop – then preparing a good meal with it – that is beautiful." Amen.
In her two cookbooks, Gullah Cooking the Daufuskie Way and Cooking the Gullah Way, Morning, Noon, and Night, Sallie Ann shares some incredible recipes as well highlights her favorite Daufuskie memories. I've already bookmarked several pages, and come June or July I'll be ready to pick some Atlantic blues on the back porch and make Sallie Ann's recipe for Ol' 'Fuskie Fried Crab Rice. By the way, if you ever read The Water is Wide by South Carolina author Pat Conroy or saw the film, Conrack (based on said book), it may be of interest that the book and film are about the year Mr. Conroy spent teaching on Daufuskie. Sallie Ann was one of the students Mr. Conroy taught in little Mary Field's one room schoolhouse. And he wrote the forward in her first cookbook too.
Sallie Ann is eager to share her recipes and her stories of life on Daufuskie and the Gullah culture. She is currently working on her third cookbook and is also available for private demonstrations and lectures (She is a frequent guest lecturer for American Cruise Lines). Please visit her Facebook page to get updates on her schedule and the release of that cookbook – it's going to a bestseller, I just know it!
In the meantime, I was inspired to don my apron and cook up one Sallie Ann's recipes, Sea Island Okra Gumbo. I searched my town over for 'fresh pig tails' with no luck; however, I did locate 2 succulent ham hocks, some awesome okra (I love okra!) as well as fresh, wild shrimp. To Sallie Ann's recipe I added ½ tsp. gelatin dissolved a little water to make up for the lack of pigtails, 1 ½ teaspoon of salt, 1 teaspoon of black pepper and served the gumbo over white rice with hot sauce on the side. Since it also happens to be Mardi Gras, this recipe is right on time!
SALLIE ANN ROBINSON'S SEA ISLAND OKRA GUMBO
Loaded with tomatoes, shrimp and yummy okra served over rice – the fresh taste of Daufuskie in a bowl!
from her cookbook Gullah Home Cooking the Daufuskie Way
2 pieces fresh ham hock
3 pieces fresh pig tail*
1-2 cans diced or stewed tomatoes
4-5 cups of water
3 cups okra, washed and cut up
1 cup of fresh shrimp, peeled and deveined
Corn, fresh green beans (optional)
Put pig tails and ham hocks in medium pot, half full with water. Boil 20 minutes, then drain. This will clean the meat. Rinse the meat again, twice.  Return the meat to the pot, add the tomatoes (more or less, as you prefer) and 4 to 5 cups of water, and boil slowly until the meat tender and the tomatoes break down in the soup (30 to 60 minutes). If you wish, pre-fry the okra with a dash of oil to reduce the slime. Add the okra, pre-fried or not, along with the shrimp, to the tomatoes and meat. If you like add corn, green beans, or any other vegetable, canned or fresh. Serve as a soup, over rice, or with stiff grits.
* Note: I could not find fresh pig tails in my area so I dissolved ½ tsp. gelatin in about 1/3 cup water and added it to the meat/tomato/water stew. It thickened perfectly, although if I could have found fresh pig tails I would have used them! I also seasoned my gumbo with 1 1/2 tsp. salt and  1 tsp. black pepper.
More Trending Stories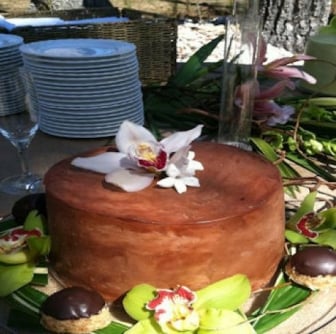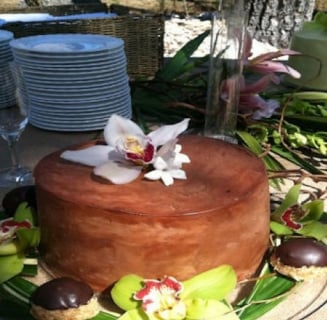 The Cottage – Café, Bakery & Tea Room's Chocolate Lavender Love Cake
Recipe courtesy of The Cottage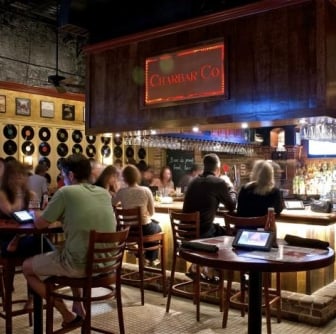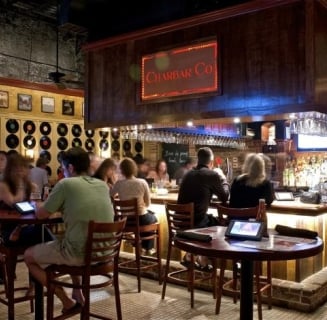 Food Finds and Good Times in Hilton Head Island
If you are in any way familiar with Hilton Head Island, you already realize that restaurants here are so good; they provide reason alone to visit our...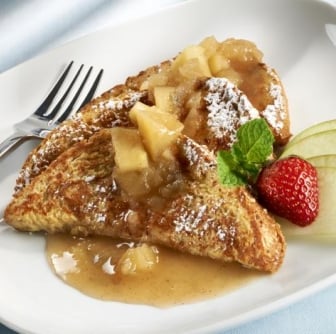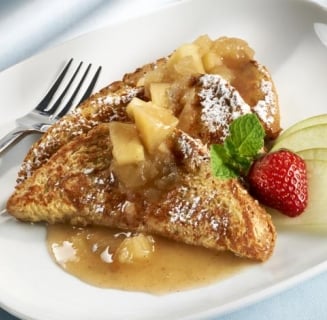 Corner Perk Spiked Caramel Apple French Toast
Recipe courtesy of The Corner Perk Cafe
Basic French Toast
You will need:
sliced Challah bread
1 pint heavy cream
4 eggs
1 tsp cinnamon
...