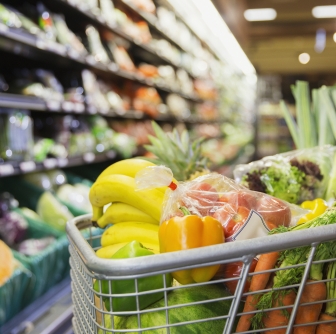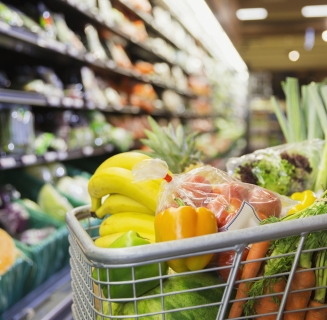 The Island's Largest Grocery Brings New Conveniences for Visitors & Locals
By Hilton Head Insider
Hilton Head Island's largest grocery store and the only one open 24 hours, Kroger at Shelter Cove Towne Center has so many conveniences to offer families of locals and vacationers. I've complied some of my favorite tips, tricks and hidden discounts that you can take advantage of on your next grocery trip, saving you time and money while vacationing on the Island!
The new Shelter Cove Towne Center is located across the street from Palmetto Dunes in the middle of the Island. With the Island's over 60 miles of bike paths, this allows for total biking connection to Kroger. So of course you can find a free "fix-it" station with tools and a free air pump for your bike – how convenient!
Gray always picks the police car to ride in when we shop but I caught this little guy in the Taxi! Decorated buggy carts are a must when shopping, right moms! They also have a ton of carts that hold the car seats too.
Their seasonal specials in the front display everything from fruit trees to palms to outdoor furniture…today they had a ton of Fall items, like mums and pumpkins.
When you enter on the left side of the building, you will see the enormous Kroger floral and plant department. This floral department is my go-to whenever I need a quick hostess, get-well or thank you gift. Their arrangements are beautiful and always very fresh – and they always have strategically placed wine next to the flowers so I can grab and go when headed to a friend's!!! Kroger offers a huge assortment of pre-filled specialty balloons and treats like gourmet chocolates and beautiful cards too.
But here's the true insider's guide to Hilton Head Island trick….right next to the floral counter at Kroger you can find a "few day old" flowers for nearly HALF the price…sometimes more! I love to treat myself to a beautiful flower arrangement – usually hydrangeas and roses, for next to nothing! They are still in great shape; just don't have quite the shelf life as the full price flowers. Try it and tell me what you think!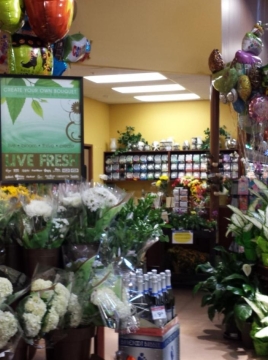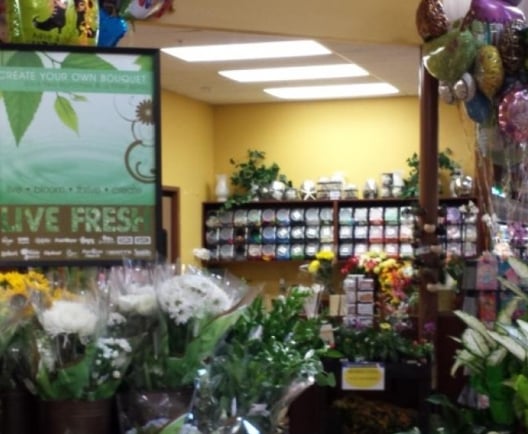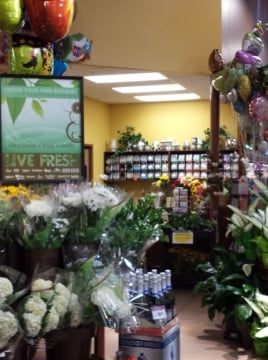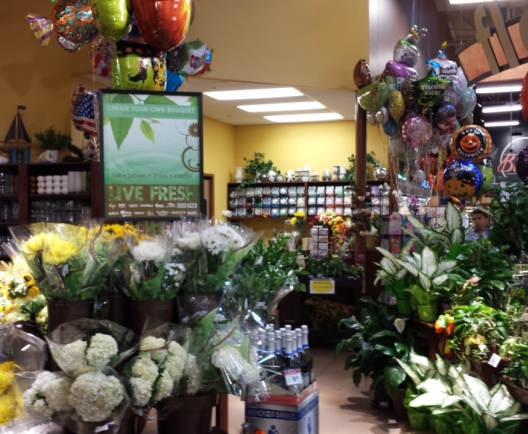 Kroger has a huge produce selection that includes a large amount of organic choices as well. We always hit the berry display first! Raspberry, Blueberry, Blackberry, Strawberry and usually a seasonal choice as well.
Here's another insider tip – If you are grilling out, building a salad or want some quick pre-cut veggies for the beach during your next vacation to Hilton Head, check out the pre-packaged section. They usually have markdowns too – just look for the orange sticker right on the item!
You can find any pre-prepared meal that could possibly exist on the left side of Kroger. Perfect for grab and go, assistance with menu planning, somewhat homemade or as I like to call it – what are we having for dinner tonight !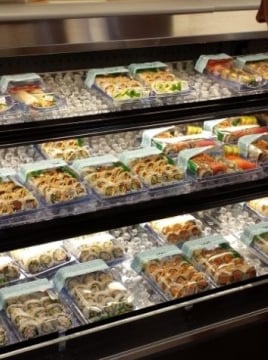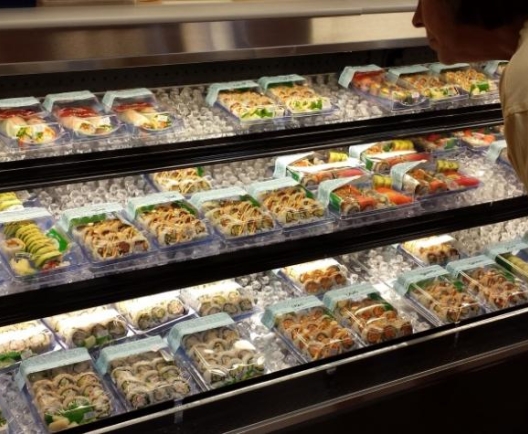 Two sided fresh salad bar – perfect if you are looking for the convenience of being able to pick up lunch on your way to the beach or Shelter Cove Towne Center Park for a picnic.
Boar's Head meat and cheese deli selection with pre-packaged sandwiches, wraps and salads – fabulous for the beach.
Southern Meat and Three combo's featuring fried chicken, ribs, mashed potatoes, mac and cheese, collards and more.
Gourmet pizza by the slice or the whole – see the samples in this photo? Our favorite, the BBQ chicken on the left!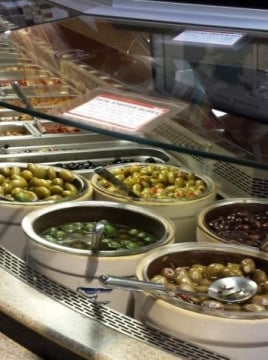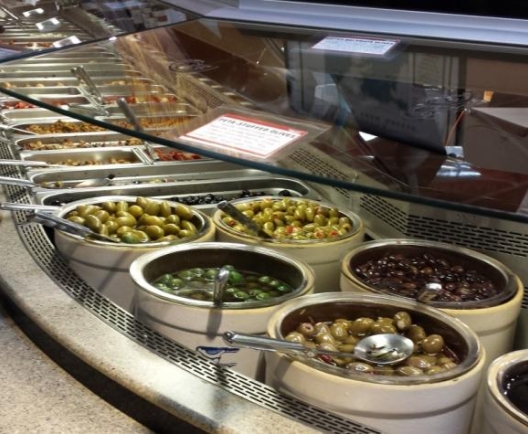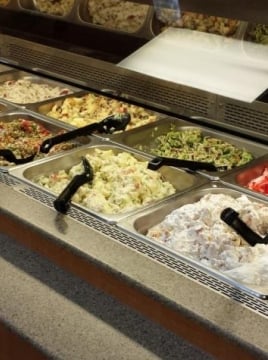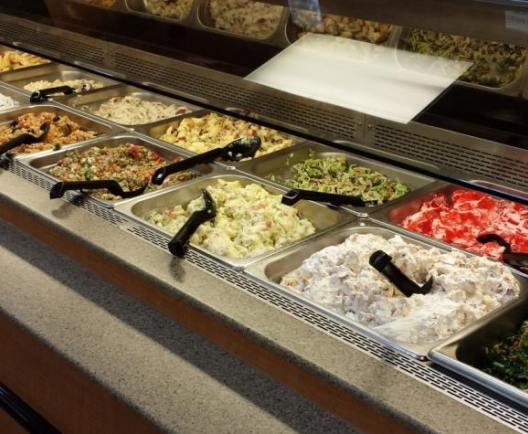 From the deli counter, Lobster Mac and Cheese cups, Cornish game hens and chicken pot pie. Perfect if you can't quite get dinner figured out.
And our dinner (at least once a week) grab and go BBQ 8 piece meal – they also have lemon pepper and fried – with bagged salad and pre-cut veggies from the produce department! Dinner is served!
Now there are two areas where you can eat on-site at Kroger. One is in the Starbucks lounge – yep, there's a Starbucks in our Kroger – and the other is outside on the patio. The entire store offers free WIFI with no password (don't ya just hate it when you have to ask for the password?) so you can make it a working lunch or grocery stop if needed. There's also ample wall plug-in's in case you need a charge.
You can also grab a soda with 1000's of Coke combinations, a Icee or make your own milkshake at the drink stand!
Another huge convenience from the deli section is their pre-packaged grab and go cheese and meat slices. Located by the deli salad bar, this allows you to avoid the wait at the deli counter and still get fresh deli sliced meats and cheeses – all ready to go.
You MUST check out Murray's Cheese Shop. Murray's features hard-to-find, gourmet and interesting cheeses. Perfect for party-planning or for an appetizer.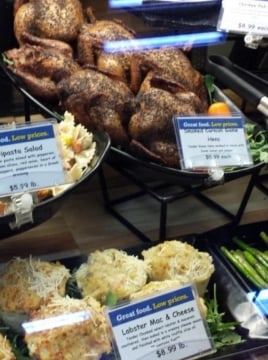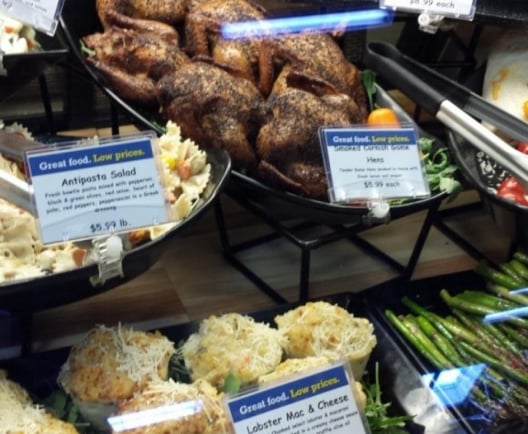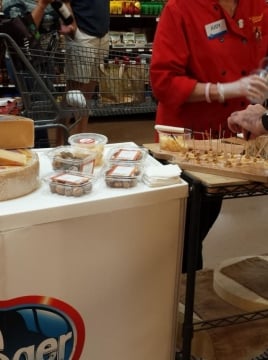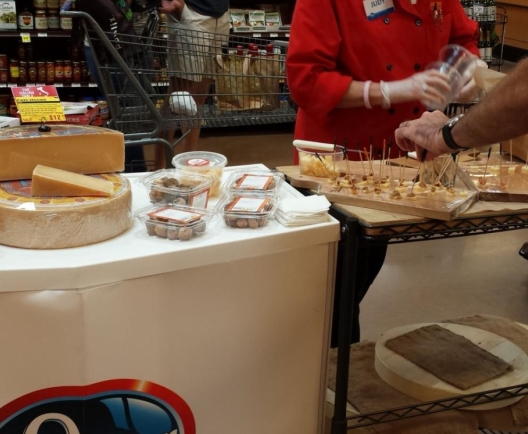 I can always find an exquisite cheese with interesting crackers at Murray's.
Samples! We usually shop on Sunday's and they have an assortment to test out.
Check out the discount I found on this gourmet cheese – perfect with our pasta dinner tonight and score – half off – those manager stickers in orange and yellow are the ones to look out for!
Random, but I just have to share. The McClure's pickles from Detroit in Murray's Cheese Shop are to die for. I don't know how they make them taste so good and they are a bit pricey but trust me, buy them!
Kroger also features locally owned Hilton Head stores, such as the Chocolate Canopy. Gourmet chocolates straight from Hilton Head!
I love their fresh baked LaBrea bread – just pick your loaf and put it into the slicer!
In the back of the bread department, check out the discounted bread – perfect if you are going to use in the next day or two!
Are you having a birthday on Hilton Head Island during your vacation? Or want to celebrate a special occasion such as an anniversary or engagement? Check out the pastry selection – they have made me a Cowboy cake, an aloha cake and a gourmet strawberry crème cake just this year – bring them an idea or a photo – their cake decorators are really good! There is also a large assortment of pastries like éclairs, crème puffs, tarts and beautifully decorated cupcakes.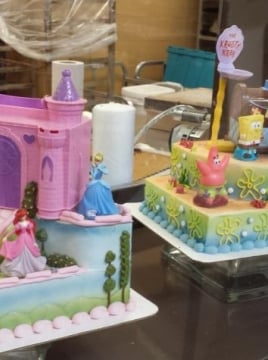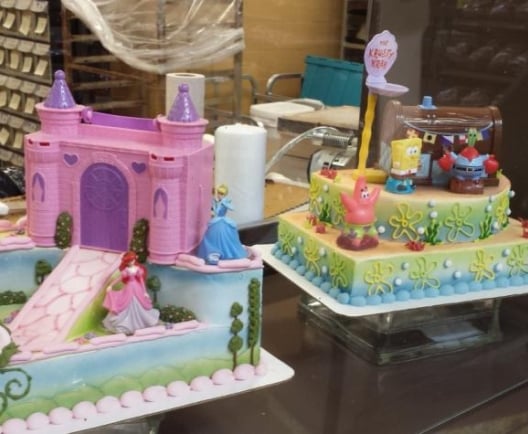 I would encourage you to spend some time in the Seafood and Meat section if you are looking for something unique or something local. Gray loves to have them pull out the lobsters – just ask!
My favorite, grass fed Buffalo and Bison steaks. If you prefer to eat organic or gluten free, you can find over six aisles of packaged, frozen and deli selections available, along with a large nut selection.
Kroger on Hilton Head also boasts the Island's largest beer and wine selection (5 aisles) with over 1800 different wines and over 800 beers with an extensive craft selection.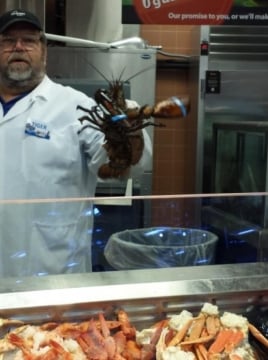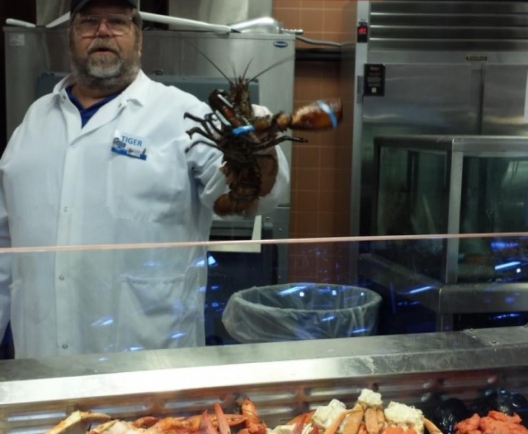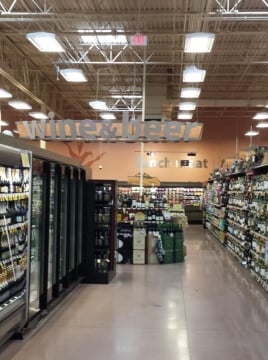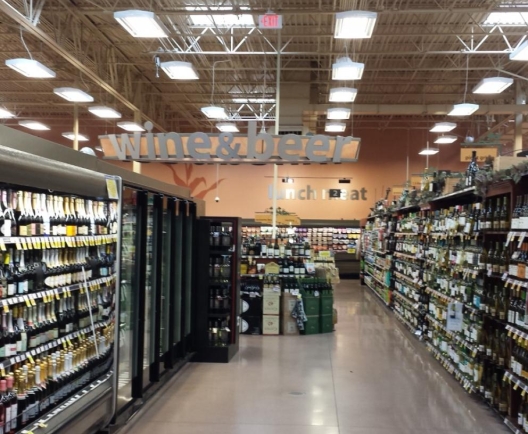 There are five behind the glass doors that offer specialty wines starting at $40 and going into the thousands. Find your favorite champs like Veuve and Dom or true wine specialties like Penfolds Grange (think $600 and more!!!) or Caymus Special Selection.
If you find a bottle on the shelf that you need chilled right away, no worries! Drop if in the Kroger wine chiller and finish up your shopping. Chilled to perfection in less than seven minutes!
Need a cigar for you golf trip to Hilton Head? Kroger's got that too! Starting at $3 to $12, there's an entire case for you to select from.
Now onto my favorite, craft beers! Kroger has the best "mix a six" package where you pay for the beer individually – so buy one, or make your own six-pack! Check out this large selection of over 80 individual beers – both local and from all over the country.
My husband enjoys the 20 oz and more craft beers – the larger selection is perfect if you want to share!
And of course, all your domestic and sports headquarters selections in bulk!
Kroger also glass jar, organic milk from Homestead Creamery. You just pay the deposit on the glass and get fresh milk, just like your grandparents (or great grandparents) used to get delivered!
Last, whatever you need for home cooking, utensils, books, gift items from Hilton Head or seasonal fun – like Halloween, Kroger has an aisle for it!
Kroger Hilton Head Island
Shelter Cove Towne Center
42 Shelter Cove Ln, Hilton Head Island, SC 29928
(843) 842-0540
More Trending Stories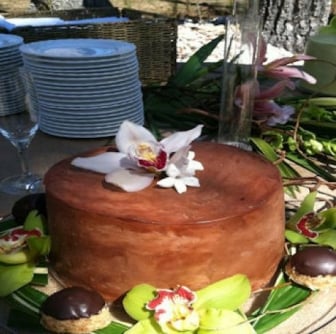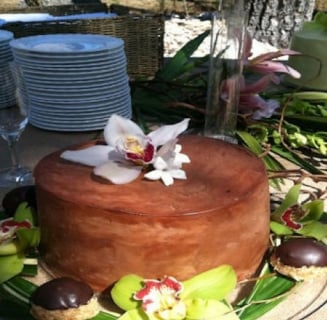 The Cottage – Café, Bakery & Tea Room's Chocolate Lavender Love Cake
Recipe courtesy of The Cottage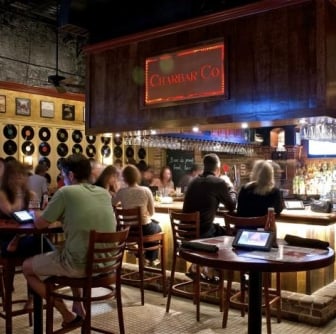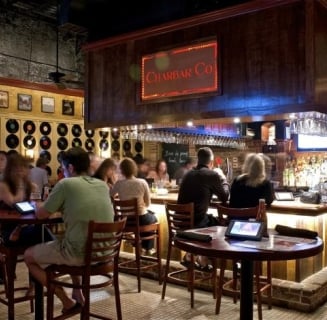 Food Finds and Good Times in Hilton Head Island
If you are in any way familiar with Hilton Head Island, you already realize that restaurants here are so good; they provide reason alone to visit our...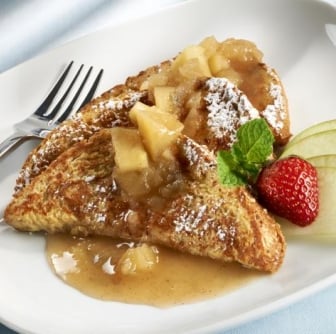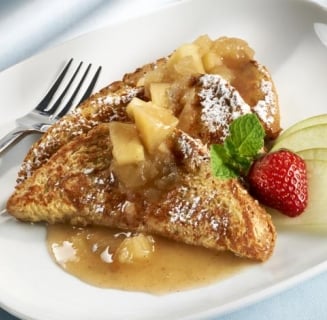 Corner Perk Spiked Caramel Apple French Toast
Recipe courtesy of The Corner Perk Cafe
Basic French Toast
You will need:
sliced Challah bread
1 pint heavy cream
4 eggs
1 tsp cinnamon
...