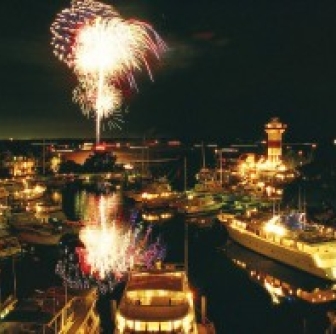 Hilton Head Island Showcases Great Food Along with Fireworks This July 4th!
By Hilton Head Insider
Fourth of July weekend, a time to grab a lawn chair, stock the cooler and sport American flag swag. Better yet, head to the coast and Hilton Head Island for Atlantic ocean breezes, amazing firework displays and of course, a medley of superlative food and feasting choices.
Independence Day celebrations on Hilton Head Island are big and bright as Sea Pines lights up the night in Harbour Town. Fireworks can be viewed at 3 different locations around the Island. Photo courtesy of Sea Pines Resort.
Many of the prime firework viewing locales on the Island – Shelter Cove Harbour, Skull Creek and Harbour Town, not only get the party started but keep it going by with plenty of thirst-quenching libations, live entertainment and a variety of delicious bites.
Hilton Head Island's location in the heart of the Lowcountry in mid-summer creates the perfect storm of opportunity for indulging in local seafood like shrimp, blue crab and flounder, not to mention the plethora of gorgeous vegetables and fruits now in-season.
My own family's Independence Day celebration in the South included homemade peach ice cream, that we made ourselves using a hand-cranked churn, Kosher salt, ice and plenty of elbow grease. Our family garden also played center stage supplying fresh picked corn on the cob, salad fixin's and ruby red slicing tomatoes we piled high on grilled burgers. We snacked on southern-style boiled peanuts and chilled, local watermelon, taking our turn at the ice cream churn before making a mad dash through the sprinkler. Good times. Family times.
Surf and Turf with local mahi and jumbo sea scallops all topped with a green tomato relish, served waterside at the Skull Creek Boathouse. Photo courtesy of Skull Creek Boathouse.
Times like that are ready to be created again this July 4th in Hilton Head Island. The Skull Creek Boathouse hosts their annual Party on the Pier from 4 pm to midnight on July 4th with live music from Cranford & Son's. There will be the traditional crab races, kids activity area with bouncy tents, cotton candy and snow cones, and of course, the fireworks display over Skull Creek.
You may reserve dinner seating on the pier and partake of peel-n-eat shrimp, green tomatoes with shrimp and goat cheese, and "salt & vinegar" crab cakes. You can even create your own surf & turf from the extensive butcher cut steak and fresh seafood selection board. They even offer up succulent barbeque pork ribs, burgers and chicken for you landlubbers!
In venerable Sea Pines Resort, Harbour Town shows it's red, white and blue spirit and invites you to do the same by decorating your bicycle, wagon, dog, or kids for a fun parade around Harbour Town. Meet at the lighthouse at 8:30 am and the parade line up is at 9:30 am, with festive activities following the parade. (Call 843-842-1979 for more details.)
After the parade, play a round of golf or take a beach break, then return to Harbour Town for a fireworks extravaganza that will light up the sky over the famous Harbour Town Lighthouse and Calibogue Sound. Restaurants and eateries such as Harbourside Burgers & Brews and The Quarterdeck, located adjacent to the Lighthouse will be offering up sizzling burgers and seafood favorites in a carnival atmosphere.
If you're looking for a more subdued dining experience check out Topside Waterfront Restaurant above The Quarterdeck, Islander's favorite CQ's Restaurant or The Harbour Town Grill with thrilling views of famous Harbour Town Golf Links. CQ's wild Atlantic shrimp entrée served with cheddar grits, house roasted bacon and grape tomatoes and a Vidalia herb cream will knock your socks off; their Angus ribeye is a steak-lovers dream.
The Peppered Mustard Salmon (served here as a salad) from Bistro 17 bursts with fresh flavor. Bring your pet and/or your kids along here as you're all welcome to dine alfresco under the canopied tables looking out over Shelter Cove Harbour. Photo courtesy Bistro 17.
Shelter Cove Harbour – just across from the Palmetto Dunes Oceanfront Resort entrance moves its weekly HarbourFest extravaganza from Tuesday, July 3rd to July 4th in celebration of Independence Day. There will be live music by Shannon Tanner and fireworks over Broad Creek at dusk. There are several dining options in Shelter Cove, much of it alfresco! The peppered mustard salmon at Bistro 17 (and offered at lunch and dinner) is fresh and flavor-filled. This casual restaurant with a fine-dining ambiance also offers child and puppy menus, so families with doggies and kiddies are welcome here too.
Make a dinner reservation to dine in waterfront, European ambiance at the lovely ELA's Blu Water Grille. Even with a front row seat to the fireworks spectacular, the macadamia & banana crusted Mahi Mahi entrée served here is sublime.
More Trending Stories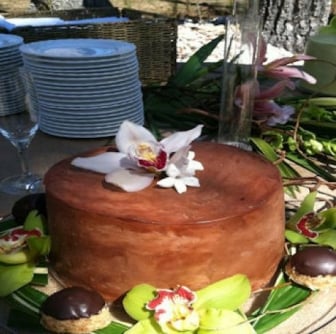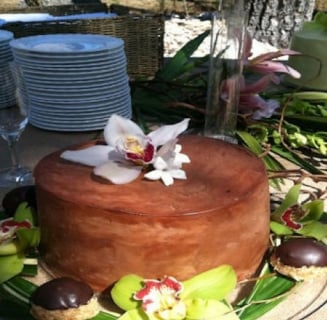 The Cottage – Café, Bakery & Tea Room's Chocolate Lavender Love Cake
Recipe courtesy of The Cottage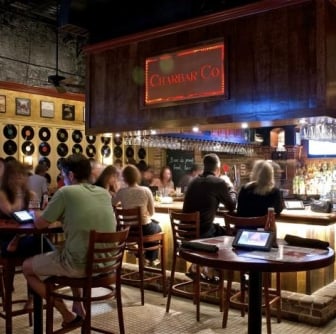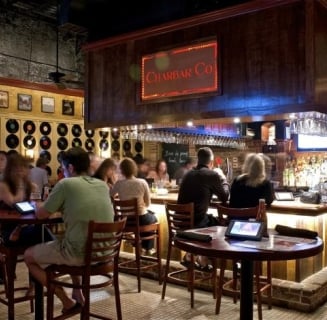 Food Finds and Good Times in Hilton Head Island
If you are in any way familiar with Hilton Head Island, you already realize that restaurants here are so good; they provide reason alone to visit our...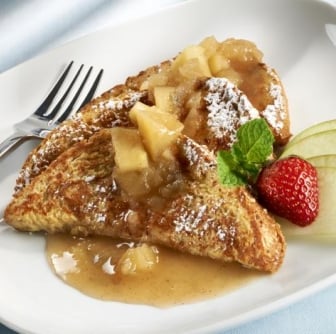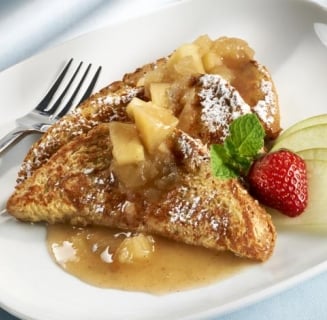 Corner Perk Spiked Caramel Apple French Toast
Recipe courtesy of The Corner Perk Cafe
Basic French Toast
You will need:
sliced Challah bread
1 pint heavy cream
4 eggs
1 tsp cinnamon
...