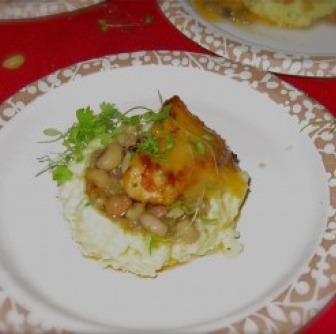 Foodies best kept secret no more!
By Hilton Head Insider
It's no secret to the foodie friends and fans of Hilton Head Island that the island and environs are home to an incredible array of restaurants, cafes, and caterers with talented owners and chefs creating tasty, delectable menus. Hopefully this blog has highlighted some of those who are also embracing sustainable business practices by using in-season ingredients purchased from local farmers, fishermen and purveyors. Some are going a step further by growing their own produce and herbs, teaming with local farmers to compost their kitchen scraps and even "putting up" locally grown vegetable and fruits for later use.
Effervescent Orchid Paulmeier's "Son of a Peach" Baby Back Ribs with Bleu Cheese & Avocado Slaw garnered accolades as the night's 2nd favorite dish.
Over the past summer it's been an awakening I've seen for myself at the local farmers markets, among the chefs and restaurateurs I've interviewed, in the media and with visitors to the Lowcountry. Recently, special events, held from the bright lights of Broadway to the moonlit skies above our own Coastal Discovery Museum, have brought the one-of-a-kind flavor and the emerging culinary stars of the Hilton Head Island into the national and even international foodie vanguard. In New York, the Conde Nast dining rooms welcomed SC coastal cuisine with dishes prepared by local chef and Food Network Star contender Orchid Paulmeier. A "deconstructed" Lowcountry boil was the showstopper recipe convincing editors and foodie insiders to take a closer look at the burgeoning Hilton Head Island food scene.
September Oaks Winery provided Carolina Wren Red Wine and Family Reserve White Wine, a blend of muscadine and two French hybrid grapes, Seyval and Vidal Blanc, lovely and refreshing.
The Culinary Showcase, the signature foodie event at The Ecotourism and Sustainable Tourism Conference(ESTC) included 8 local restaurants presenting their finest locally inspired dishes for noshing. This international conference included participants many countries, national media and world acclaimed speakers including ocean explorer Fabien Cousteau. Showcase guests enjoyed beverages supplied by local and South Carolina companies including September Oaks Winery (yes, grapes are grown here in Beaufort County), Son of a Peach beer by R.J. Rockers Brewing Company, Firefly Vodka (Charleston) and decadent dessert gelatos by Hilton Head's own Pino Gelato.
Chef David's Sweet Potato Corn Bread, Hilton Head Island Gumbo, and Collard Greens (Roastfish & Cornbread) was a big hit - no surprise there!
Now for the food! Not only was everything I tried (and I tried it all, believe me!) superb but each and every chef graciously answered questions all the while either cooking or plating their dishes for hundreds of guests. Walking up to the showcase area, Orchid Paulmeier of One Hot Mamas greeted me with not only her "Son of a Peach" Baby Back Ribs with Bleu Cheese & Avocado Slaw but also her infectious smile and bubbly, "Hey ya'll – come try a rib!" The group from The Jazz Corner did it up right with Chef Mark Gaylord's Pan Roasted BBQ Spiced Local Trigger Fish with Spiced Peach Butter, Local Beans & Peas and Creamed Carolina Gold Rice. That rice is really something that can only be described as awesome and it too is a locally gown South Carolina crop! Congrats to The Jazz Corner for being selected as favorite dish too.
I tried (twice!) the May River Oysters Gratinee with Collard Greens, Applewood Bacon, & Gruyere by Chef Keith Josefiak from Old Fort Pub. Simply divine. Chef Andy Borgmeier of Celebrations Events served the best friend green tomatoes I have ever had with his Fried Green Tomatoes served with a Lemongrass Ceviche of local Shrimp and Remoulade. By the way the tomatoes were from Bluffton's own Three Sisters Farm.
Pino Gelato's cool and creamy treats hit the spot!
Chef Tom Corey (Black Marlin Bayside Grill) chose well by not only serving a sustainable fish species with his delicious Local Wreckfish Sliders but it was easy to handle at a stand-up cocktail function too. The Sweet Potato Corn Bread, Hilton Head Island Gumbo, and Collard Greens by Chef David Young of Roastfish and Cornbread made for a long line around the tent. What is the secret to those collards? Inquiring mind want to know!
Chef Nick Unangst did not disappoint with Low Country Shrimp and Grits using local grits, shrimp and sausage, and local Stone Crab Claws. This was an epiphany to me – local stone crab claws – I am ready to pull up a bar stool at the Skull Creek Boathouse, Chef Nick! For a rich and cool change Chef Matt Roher's Chilled local heirloom tomato soup with fresh local goat cheese & foccocia did the trick. You may recognize Chef Roher of Savannah farm-to–table restaurant, Cha Bella, as well as his features in Travel and Leisure, Southern Living and Food and Wine magazines.
As I called it a night (and rolled myself out of the Culinary Showcase) I looked around and saw a lot of very happy people learning, creating and enjoying the incredible food and drink – and the dynamic – but relaxing atmosphere of our island. Visitor or local, it is good to be in the Lowcountry!
Pan Roasted BBQ Spiced Local Triggerfish, Spiced Peach Butter with Local Field Peas & Creamed Carolina Gold Rice
Ingredients:
6 ea. Triggerfish Filets (boneless/skinless)
2 Tbsp. BBQ Spice
1/4 c. Olive Oil
4 oz. Clarified Butter
Method: Preheat oven to 350 degrees. Place the fish, BBQ spice and oil into a mixing bowl and turn the filets to evenly coat with the spice and oil. Heat two skillets on med/high heat, each with two ounces of clarified butter. When the butter is heated, add three filets to each pan placing them in skin side up and sear until golden brown. Turn the filets over and place the skillets into the preheated oven for 3 to 5 minutes depending on the thickness of the fish. Place the field peas and some of the pot liquor into a serving bowl with a portion of rice placed in the center. Place the fish on top of the rice and sauce with the peach butter.
SPICED PEACH BUTTER
Ingredients:
2 c. Peeled Sliced Peaches
1/4 c. granulated sugar
1/4 c Peach Schnapps
1/4 tsp. Ground Cinnamon
1/2 tsp. Salt
1/8 tsp. Cayenne Pepper
1/8 tsp. Ground Nutmeg
1/4 lb. Unsalted Butter
Method: Place all ingredients except butter into a sauce pan over med/high heat and bring to a boil. When the liquid is reduced buy about 1/3, remove from the burner and let cool for 10 minutes. Place mixture into a blender and puree while adding the butter in small chunks. Cover the finished product and refrigerate for service.
BBQ SPICE
Ingredients:
12 oz. Light Brown Sugar
8 oz. Iodized Salt
1-1/2 Tbsp. Coarse Ground Black Pepper
1/4 c. Paprika
1/3 c. Granulated Garlic
1-1/2 Tbsp. Ground Mustard
1-1/2 Tbsp. Celery Salt
1/3 c. Onion Powder
One pinch Ground Cloves
Method: Place all ingredients into a mixing bowl and whisk until well blended. Store in an airtight Ziploc bag.
FIELD PEAS
Ingredients:
1/4 lb. Apple Wood Smoked Bacon (cut into small pieces)
1 ea. Med. size Sweet Onion (small dice)
1 ea. Med size Carrot (small dice)
2 ea. Ribs Celery (small dice)
1/4 c. White Vinegar
3/4 tsp. Crushed Red Pepper
1/4 lb. Unsalted Butter
2-1/2 tsp. kosher salt
4 c. Chicken Broth
2 lbs. fresh or 1lb. dried Field Peas
Method: Cook the bacon in a saucepot over med/high heat until crispy. Add the celery, onions and carrots and sauté until al dente. Add the remaining ingredients, bring to a boil, reduce to a simmer and cook for about 2 to 3 hours stirring occasionally until the peas are tender.
* If using dried peas, soak in water overnight before cooking*
CREAMED CAROLINA GOLD RICE
Ingredients:
1/4 c. Olive oil
1 lb. Carolina Gold Rice (twice rinsed and drained with cold water)
6 c. Chicken Broth
2 tsp. Salt
1 pinch Saffron
1 c. Heavy Whipping Cream
Method: Heat the olive oil in a saucepot over med/ high heat; add the rice and sauté for 2 to 3 minutes. Add the chicken broth, salt and saffron and bring to a boil. Reduce the heat to a slow boil and continue to cook, stirring often, until the stock is absorbed and the rice is tender. Stir in the cream and remove from the heat for service.
More Trending Stories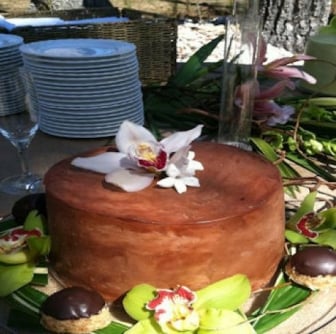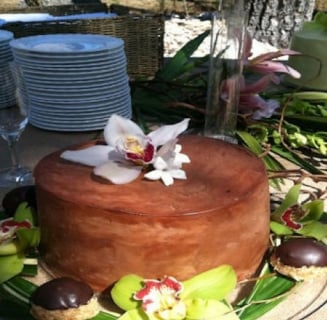 The Cottage – Café, Bakery & Tea Room's Chocolate Lavender Love Cake
Recipe courtesy of The Cottage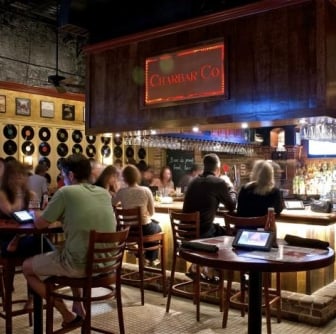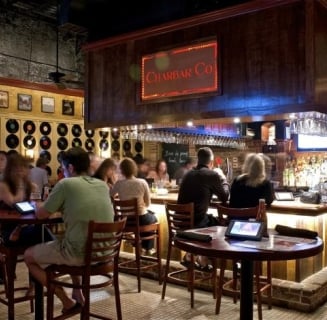 Food Finds and Good Times in Hilton Head Island
If you are in any way familiar with Hilton Head Island, you already realize that restaurants here are so good; they provide reason alone to visit our...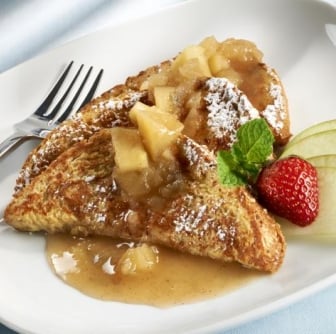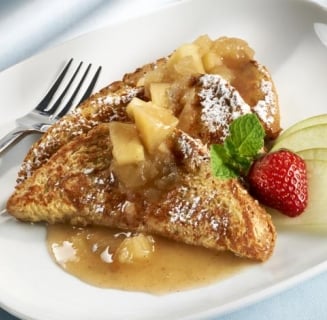 Corner Perk Spiked Caramel Apple French Toast
Recipe courtesy of The Corner Perk Cafe
Basic French Toast
You will need:
sliced Challah bread
1 pint heavy cream
4 eggs
1 tsp cinnamon
...