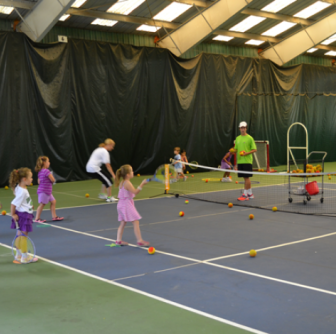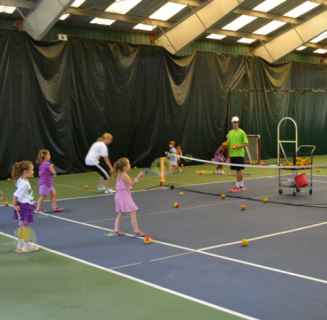 Encourage Your Child to Play Tennis on Hilton Head Island with Tennis Camp
By Elizabeth Simpson
Looking for a fun, engaging activity for your kids on Hilton Head Island? Get them started playing tennis at a young age through one of Hilton Head Island's Kids Tennis Camps.
For the younger kids, ages 4 to 10, Van Der Meer's QuickStart Tennis Day Camp gives an exciting introduction into tennis skills and game play. The customized program brings the game to the kids' level, allowing them to progress more efficiently. The use of size appropriate equipment and courts makes the game more exciting, with them getting to see their progress from day one.
Held under the Tennis Center's covered courts, the camp is a great way to have the kids outdoors and getting exercise, without worrying about too much exposure to the sun. It gets the kids moving, improves balance, agility and hand-eye coordination, and can teach self-confidence and self-assurance.
What makes VDM stand out is their one-on-one interaction with each of the campers. Even with 35-40 campers each day, the coaches get to know each child and help guide them through the program. The campers are enthusiastically greeted by Coach Mike, Coach Sally and Coach Hank each morning and led to their skill group to start off play for the day. The coaches give extra attention to the shy campers (my daughter being one of them) by giving the support and reassurance they need to make starting a new camp fun (and leaving mom and dad a lot less intimidating.)
The camp is broken into 3 groups, according to skill level, allowing the more advanced players to continue to grow. The youngest group starts the day by forming small groups of 2-3 and taking turns returning balls tossed over by their coaches. They then move on to strength and coordination exercises. In their groups, they zig-zag through obstacles, jump over cones and scramble to see who can get the most tennis balls back to their hoop. The kids are rewarded at the end of the day for their good behavior and keeping focus with small prizes that they are so proud to show to their parents.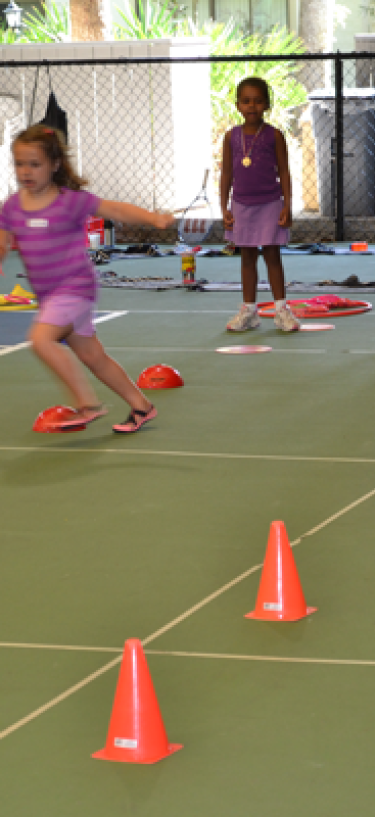 The middle group works more on their tennis game by playing mini-games, rotating partners. Using smaller racquets and balls that bounce lower and move slower on a smaller tennis court, it gives the kids more success in their games, which in turn gives them the confidence to keep progressing. The kids learn the rules of the game and keeping score, as well as the hardest lesson, which is winning and losing graciously.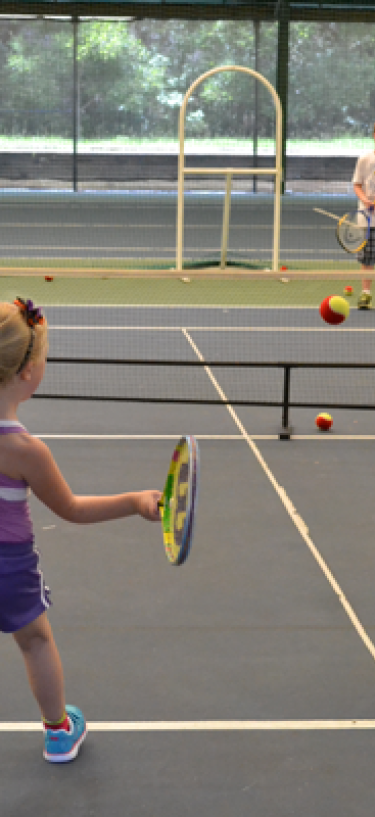 The most advanced group in the QuickStart camp plays full-court singles and doubles games. Even though the kids in this group are all 10 or under, their tennis skills rival many adults that I've seen, including myself. It's amazing to watch kids at such a young age be able to play with such prowess. It also gives the kids in the beginning groups a glimpse at what they, as kids, can do with practice.
It's not all tennis all day; the kids also create arts and crafts, play dodge ball, soccer, hockey, and even cool off after the long day by soaking each other with water guns and playing in water buckets.
Van Der Meer Tennis was founded by legendary coach, Dennis Van der Meer. He taught the graduated length method throughout his long career, and was instrumental in bringing a sponge ball to the mainstream of teaching in the United States.
Take advantage of this great tennis program that is offered while you're on your next Hilton Head vacation. You can sign your kids up for all summer, a full week, or even just a day here or there. Tennis camp hours are 8:30am-2:30pm (with extended hours until 5pm for working parents.) Van Der Meer also offers QuickStart lessons in their Fall, Winter and Spring Sessions on Tuesdays, Wednesdays, Thursdays between 4-6pm. You can contact Van Der Meer at (843) 785-8388 or online at www.vdmtennis.com.
There are also many other well-known tennis camps, clinics and lessons to take advantage of on Hilton Head Island.
HILTON HEAD ISLAND TENNIS
Ages: Tournament (Elite) Level Ages 10-18, Beginner/Intermediate/High School/Tournament Level Ages 10-18, Quick Start Ages 5-10
Offers Summer Camps and Private Lessons
Call: (843) 301-2113
Web site: www.hiltonheadislandtennis.net
IVAN LENDL INTERNATIONAL JUNIOR TENNIS ACADEMY
Call: (843) 686-1500
Web site: www.lendltennis.com
PALMETTO DUNES TENNIS CENTER AT PALMETTO DUNES OCEANFRONT RESORT
Ages: 4-17
Offers Clinics and Private Lessons
Call: (877) 567-6507
Web site: www.palmettodunes.com
PORT ROYAL RACQUET CLUB
Offer clinics (provides camps through Ivan Lendl)
Call: (843) 686-8803
Web site: www.portroyalgolfclub.com
SEA PINES RACQUET CLUB
Ages: Tiny Tots 4 to 6 years / Big Shots 7 to 8 years
Offers Summer Camp and Private Lessons
Call: (843) 363-4495
Web site: www.seapines.com
SMITH STEARNS TENNIS ACADEMY
Ages: 5-8 or 6-10 depending on skill level and then 8-18
Offers Summer Camp and Private Lessons
Call: (843) 363-4789
Web site: www.smithstearns.com
More Trending Stories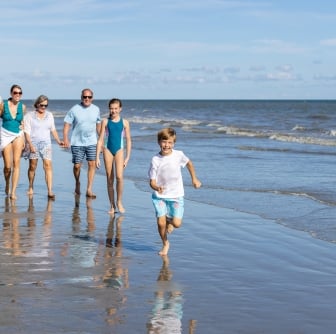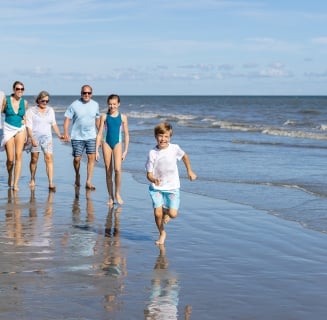 What to Pack on Your Hilton Head Island Vacation
You did it! You planned your vacation to America's Favorite Island®. You've picked your resort, researched the best restaurants, and booked your excur...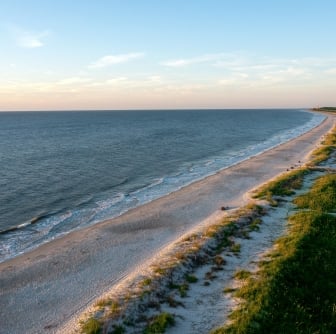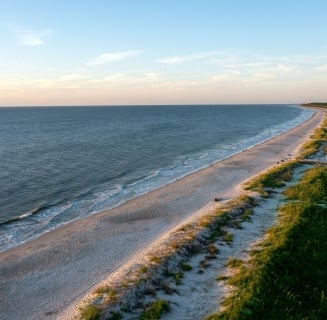 Our Wide Open Space: Hilton Head Island's Beach Is Vast, Hard-Packed, and Lively
Bring flip flops when you go to the beach on Hilton Head Island. The shores are sugar sand firm. Your bare feet may soon grumble, for this seashore is...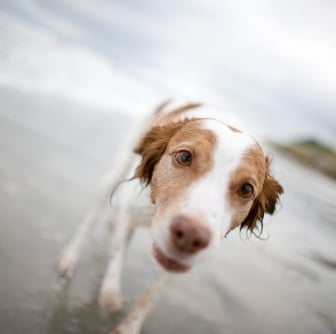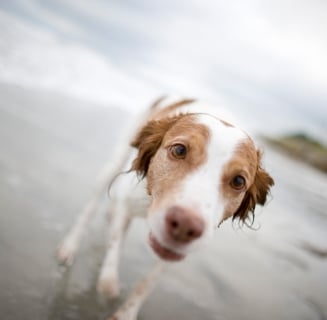 Hilton Head Island Just Named a Top Pet-Friendly Destination by FlipKey
FlipKey, the vacation rental site of TripAdvisor, shared some great news with us – they have just released this year's list of the Top Pet Friendly...