Getting to Daufuskie Island
How to Get Here
Since Daufuskie Island is accessible only by boat or passenger ferry from Hilton Head Island and Bluffton, getting here is part of the fun! Don't worry about transportation once you arrive, however. Golf carts are the main mode of Island transportation, and should be rented prior to arrival (check with your ferry or boat service to arrange golf cart rental). Then, hit the road and enjoy exploring the nearly untouched natural beauty of Daufuskie Island.
DEPARTING FROM HILTON HEAD ISLAND:
The Daufuskie Difference offers daily ferry service to Daufuskie Island's Freeport Marina from Hilton Head Island and includes your choice of a two-hour guided Island tour or golf cart rental to explore the island on your own. The service also includes an hour-long boat ride complete with a narrated tour by local guides as your ferry makes its way over.
The Daufuskie Island Ferry provides regularly-scheduled ferry service, seven days a week, to Daufuskie from Buckingham Landing (35 Fording Island Road Extension, Hilton Head, 29926). Tickets can optionally be purchased to include a golf cart, audio stream and map so you can explore the Island at your own pace. Travel in comfort in their climate-controlled cabin or outside on the deck. For more information, call 843-940-7704.
From Harbour Town you can take a water taxi through H2O Sports, or arrive on Vagabond Cruise's weekly tour. From Shelter Cove Marina, Outside Hilton Head offers a water taxi for round trip service as well as the "Daufuskie Island History & Artisans Tour," a half-day excursion that will take you to a number of historic landmarks and popular local artists' studios. 
DEPARTING FROM BLUFFTON:
May River Excursions offers ferry service from Old Town Bluffton seven days a week during daylight hours. Embarkation is from the dock at the end of Calhoun Street. Reservations are required, and there is a minimum fee to depart from Bluffton. Golf cart rental is also available, and may be arranged at the time of ferry reservation. For more information, visit their website, email: [email protected], or call 843-304-2878.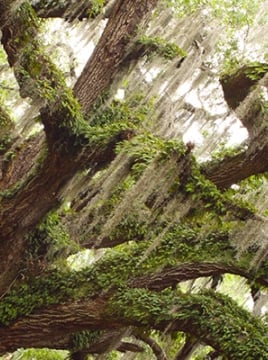 WHAT TO BRING
Whether you're just coming for the day or staying for a week, make sure you bring sunscreen, comfortable walking shoes, beach gear and your golf clubs and racquets if you are planning on enjoying Daufuskie's many sporting opportunities. If you're planning to stay in a condo or vacation home, bring groceries and supplies with you, as the Freeport General Store at the Freeport Marina stocks only a few essentials and the nearest grocery store is on Hilton Head Island.
GETTING AROUND THE ISLAND
One of the many things that makes Daufuskie Island so unique is that electric golf cart is the preferred mode of transportation and you'll quickly notice that few cars are allowed on the Island. You can rent a cart for getting around while you're here, and if you are renting a home or villa, check with the rental company because many properties include a cart. Day visitors and those whose accommodations do not include a golf cart can arrange to have a golf cart waiting as soon as you arrive on the island through one of the local tour companies. Golf cart rentals are available from Daufuskie Difference, Tour Daufuskie, Daufuskie Island Ferry, Outside Hilton Head, and May River Excursions.
DISCOVER DAUFUSKIE
As you explore the meandering island roads and pristine beaches, you can download a map to help chart your path. Be on the lookout for Daufuskie's hidden wonders among the ancient oaks, and plan to linger as you discover the charming secrets of this most special place.